Overview


The Garmin Montana GPS series is Garmin's answer to a GPS unit for both outdoor use and one that can also be used for auto navigation. Just like its name, the Montana is big. It boasts a large four inch screen and is packed with all of the latest and greatest features.
For avid GPS fans, the Montana delivers all of the newest features, including the 3 axis electronic compass, barometic altimeter and wireless transfer of data. One of the favorite features for most users, is the dual orientation screen, which can automatically switch, depending on if you hold it vertical or horizontal.
It allows for both portrait and landscape viewing of the screen, an option Garmin handheld users have begged for.
There is a 5 megapixel camera, which geotags the photos. It also includes paperless geocaching, and the ability to customize the unit in numerous ways, through profiles, screens and dashboards.
It features the option of running on either an included rechargeable lithium battery pack or on three AA batteries.
For longtime GPS users, the Montana appears to have everything you have ever wanted in a handheld GPS, a feel of the classic Garmin products, such as the Garmin V and the StreetPilot series, but with the newest features. The only thing not to like about the Montana is the pricetag--- MSRP $699, not including the auto mount or City Navigator maps.
We have started to see some lower prices as of late. You can check
discount prices here.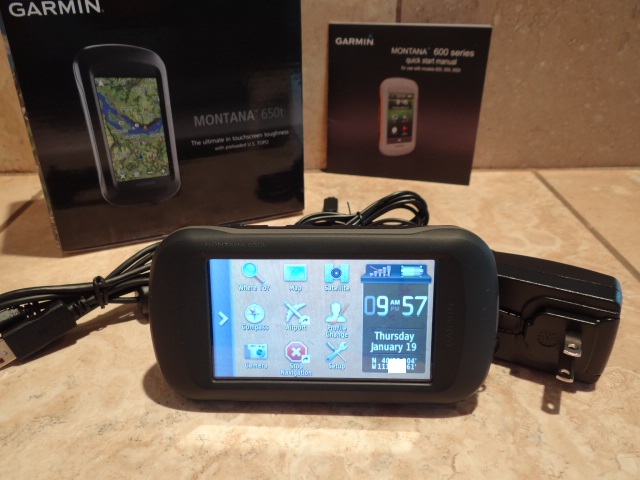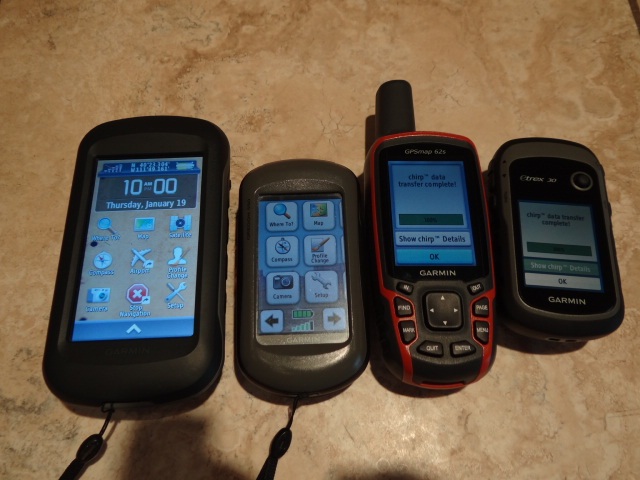 The Montana package includes the unit, AC battery charger, USB cable, quick start guide and the lithium battery.

The actual user manual is found in the memory of the unit itself as a .pdf file, in a folder labeled "Documents" or can be found on Garmin's Website by following this link.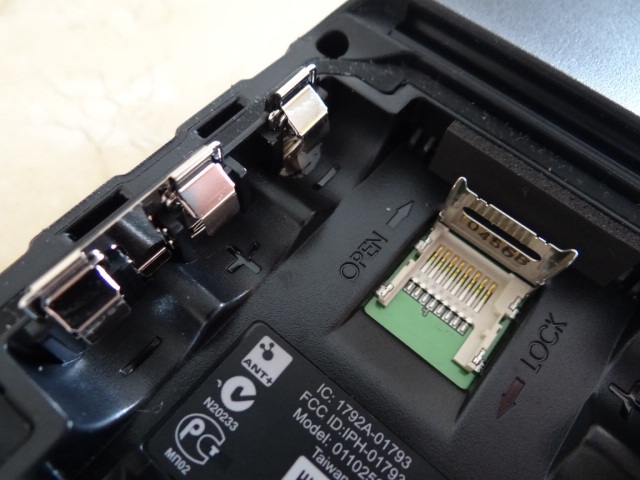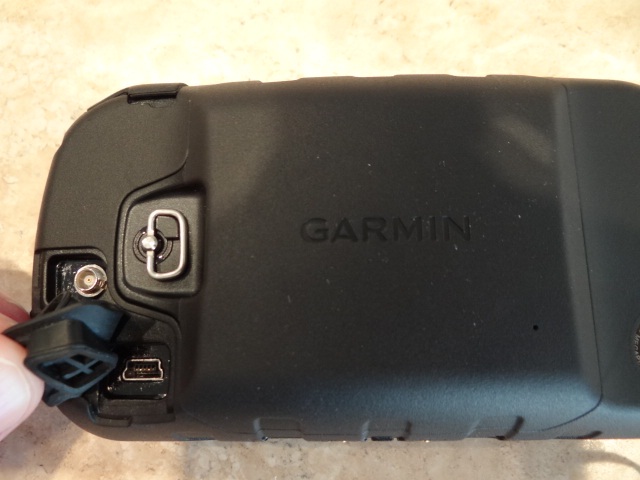 The Montana supports a microSD slot for additional mapping or BirdsEye imagery. There is already 3.5 GB of internal memory for maps and imagery. There is a high speed USB 2.0 connection, so loading data is much faster. NOTE: The USB connection is the back of the unit, under a weather cover. External antenna connector above it.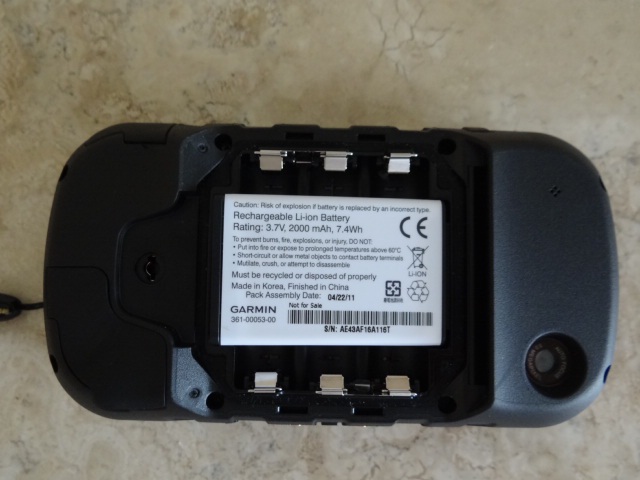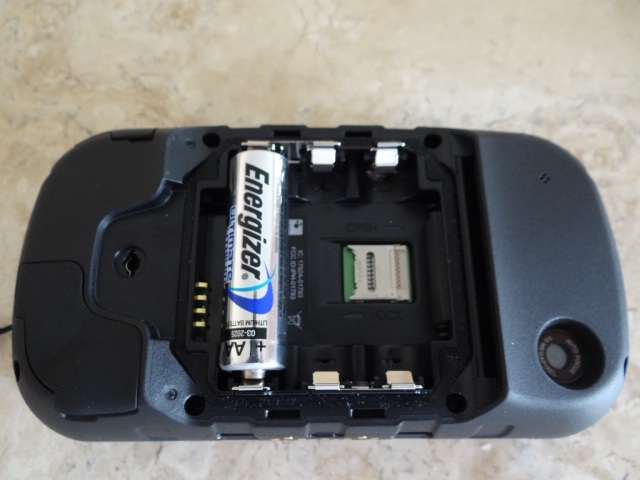 Lithium battery in place. Note camera lens on lower right hand side. With AA battery. Note Lithium battery contacts. USB under cover on lower left.




Battery
The battery options are unique in the Montana. It includes a Lithium battery pack, which in our testing lasts about 15 to 17 hours. You charge the battery while it is in the unit, and this takes about four to five hours. One nice feature in the Montana, is that while you are charging the lithium, the display gives you a percentage of the battery level. While the unit is on, you also get a percentage of battery power remaining. You can also add AA batteries, but the Montana requires three, and you can use alkaline, but NiMH or Lithium AA's are recommended. You can also purchase additional Garmin lithium battery packs for about $36.
Screen


The Montana offers an improved four inch touchscreen. It is more readable in the outdoors.
The map views with terrain shading are beautiful. The specs list the screen as "
a bright, transflective, 65k color TFT and sunlight readable."
The screen will automatically switch between portrait or landscape, depending on how you hold it. Sometimes this is a problem when hiking, however you can switch off the automatic orientation and select either portrait or landscape.
While I have used the Zagg Invisible Shield on other Garmin handhelds, there have been reports in the forums that users who have tried to remove the protective shield, have damaged their Montana touchscreen. Garmin is selling its own screen protector, called a "temporary" which you can use. This particular Garmin touchscreen also has the option to calibrate the screen, which you can do in about 15 seconds.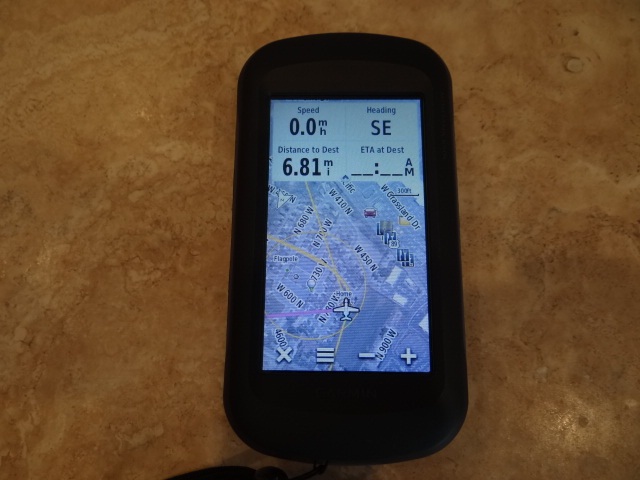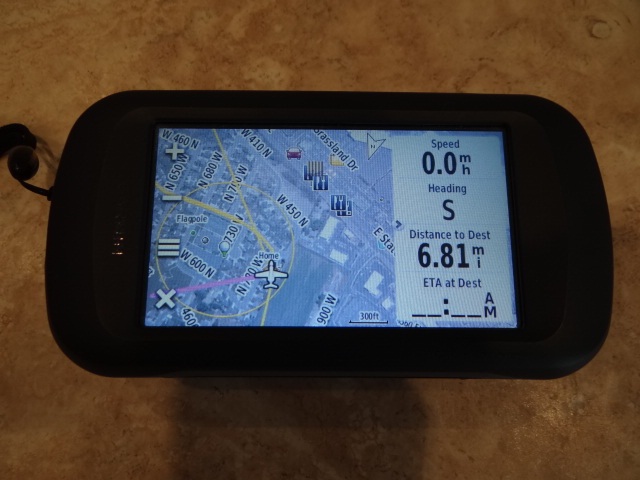 Portrait View Landscape View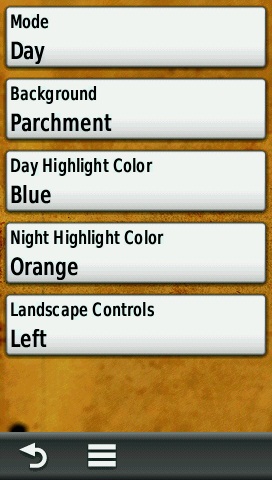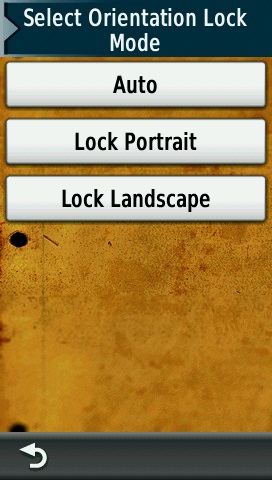 Screen options

As a longtime user of Garmin handhelds, the Montana feels a lot like a StreetPilot 2820 when in automotive use, and also reminds me of the Garmin V handheld, with both the portrait and landscape viewing options. The dual orientation screen is a huge plus in our minds. You can also customize the display with different colors and backgrounds and have it automatically switch to day or night view.




Satellite


The satellite reception is very good with the high sensitive receiver, which has become the standard in all Garmin units over the past couple of years. However, the Montana does NOT support GLONASS capability of the Russian version of GPS, which is part of the new and improved eTrex series. The Montana is also equipped with an external antenna connector, if you wish to add one, but in our vehicle testing, this is not necessary for typical use.


Shortcuts


This is a new feature in Garmin handhelds and a great one! You can create a one touch macro, to do several steps in navigating. For example, you can create a shortcut that automatically routes you to a waypoint and brings up the compass page on your Montana. The possibilities are really limitless.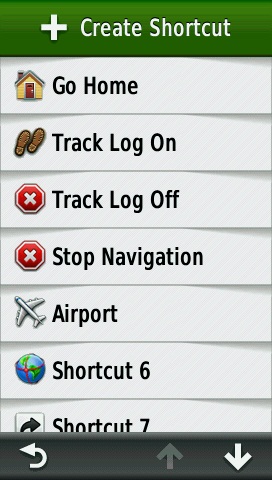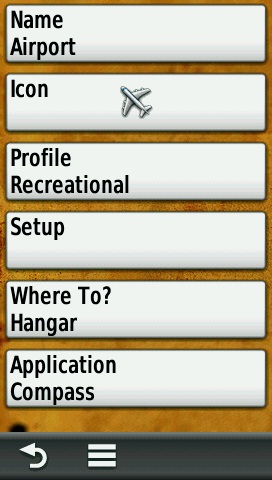 List of shortcuts I have created Setup page for creating shortcuts


Configurable Data Fields
While the Garmin handhelds of late, Oregon, Dakota, eTrex have had this feature, a new software update for the Montana groups these data fields into categories and adds a few new fields. Our favorite is the "Vertical Distance to Destination" which shows you that while your destination may only be .25 of a mile, you are going to have to hike 1,000 feet to get there. There is also the "GPS Elevation Data" field, in addition to using the barometric GPS altitude. Garmin has done a nice job of explaining these new features in a new TrailTech article posted on Garmin.com.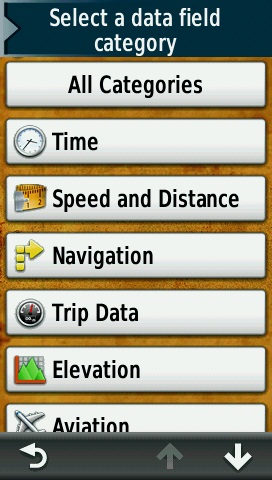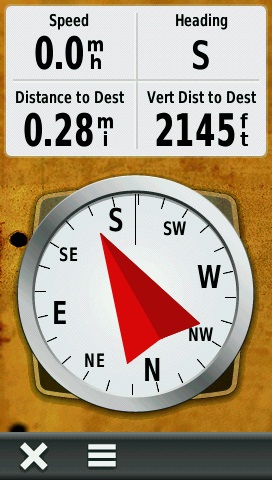 Data fields are listed by category and include ability to view new data fields Compass page. Note Vertical Distance to Destination



Menu Page


You can customize the menu page, with several backgrounds and then select the features you use most, to have quick access on the main page. On the far right, the trip computer (shown in landscape view) has a new look and you can quickly customize it. There is also a menu option icon on the map page, which is a very welcome addition, something that has been obviously missing in the Oregon and Dakota models.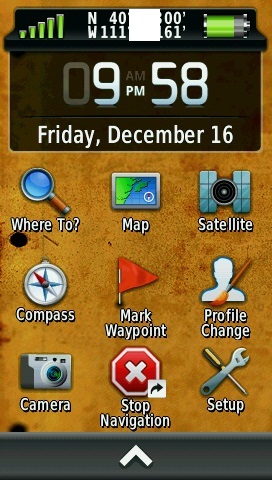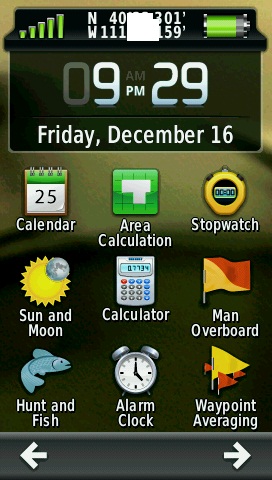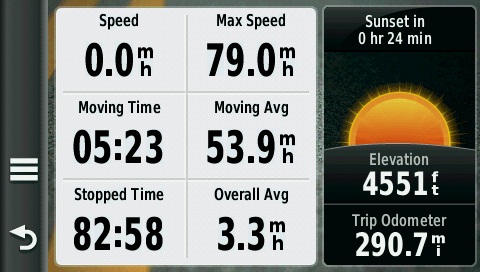 Map


The 650t includes preloaded 100k TOPO maps for the U.S. The 650 and 600 models include the basic basemap for the U.S. You can either add the regional 24K maps that can be purchased from Garmin.com or City Navigator road maps, which will provide turn by turn directions. There are also several free or shareware maps available. gpsfiledepot.com is a good place to start. The Montana supports Garmin's aerial image product BirdsEye and along with Garmin custom maps, where you can take a paper map or other map and georeference it. We have found an easier way to do this is with the newest version of ExpertGPS.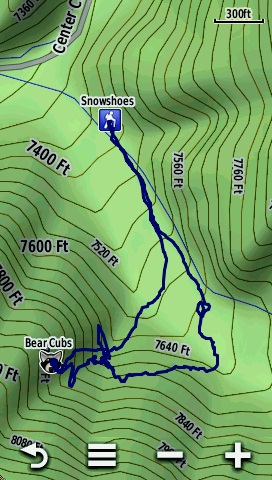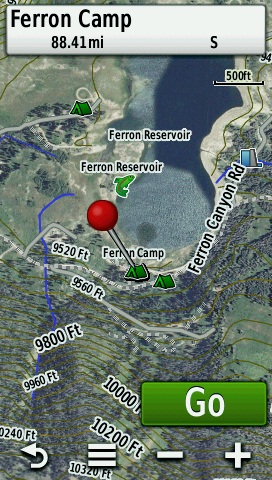 24K map along with BirdsEye aerial imagery 24K TOPO map with terrain shading Birdseye with 24K TOPO map and waypoints


Geocaching


The Montana has all of the new Geocaching features, including paperless Geocaching and Garmin's version, Opencaching. Descripton, hints, logs, etc can all be viewed in the unit. It also supports field notes, which will allow you to upload your finds back into the websites as you log online.
All of the Montana units are compatible with the Chirp feature in geocaching. As of January 2012, Garmin has added Geocaching photos. It is designed primarily for Garmin's OpenCaching site. Read more here on Garmin.com.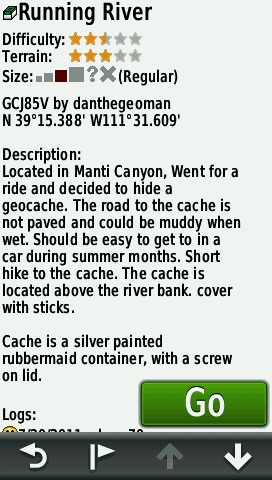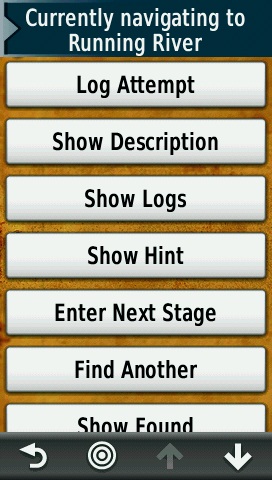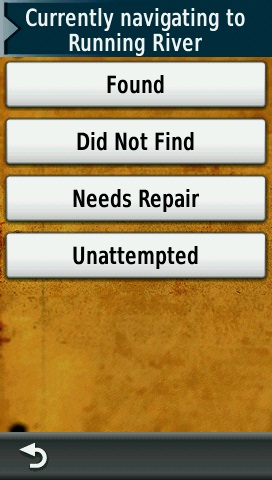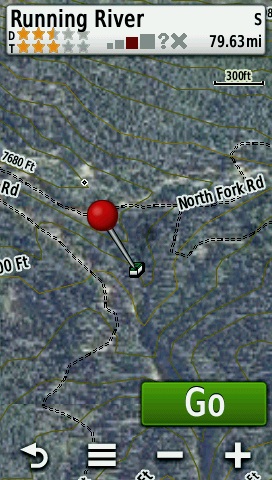 Automotive


The Montana can be used as a full fledged auto navigator, just like the Garmin nuvi series. The screen look is the same and it delivers text to speech voice directions. You can select different languages or voices and also download any vehicle icon from the Garmin Garage. You can also use different vehicle icons in any profile or use of the map. To use the full Automotive features, an additional vehicle mount/power cable must be purchased for about $50. This includes a cigarette lighter power cable and a small built-in speaker in the mount. The nice thing about the mount is that you can easily slip the Montana in or out and there is not a physical cable to deal with. It connects through physical contacts on the Montana. Our experience with the mount has been very positive. The unit also recognizes it is in the mount and makes the volume feature available in the settings, to control the level of voice directions.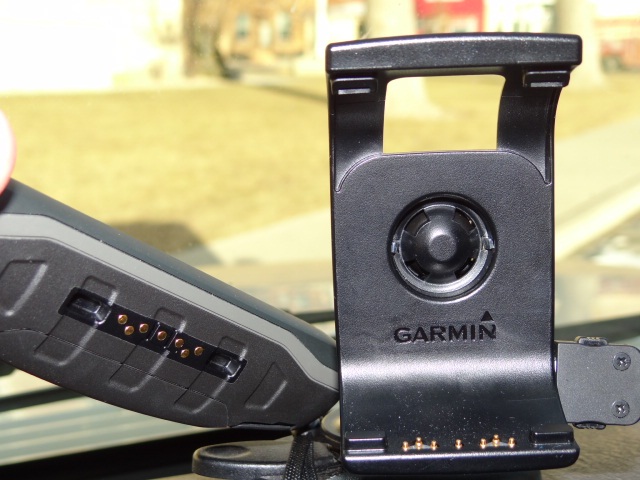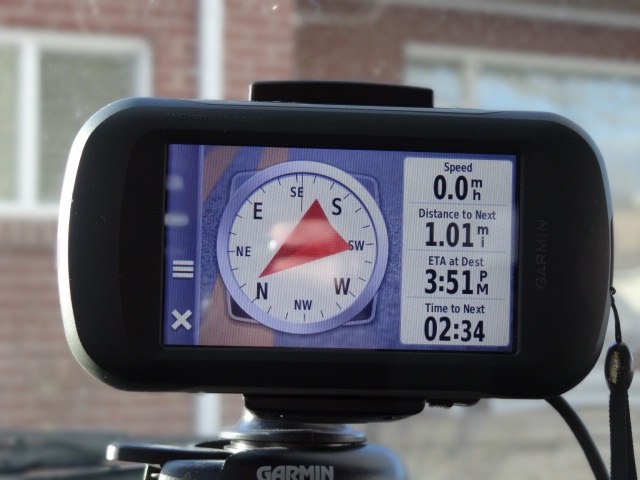 You must purchase Garmin's detailed CityNavigator maps to get the turn by turn voice directions. However, we also tried a Garmin outdoor 24K TOPO map and it also provided us with the same voice directions. The only drawback to this is that the outdoor maps are not updated frequently and the map data is probably at least three years old. But the 24K product is compatible for automotive use.
Screen images from when in Automotive use are below.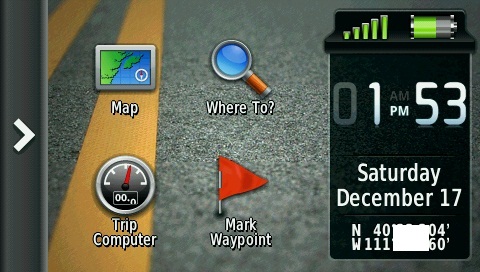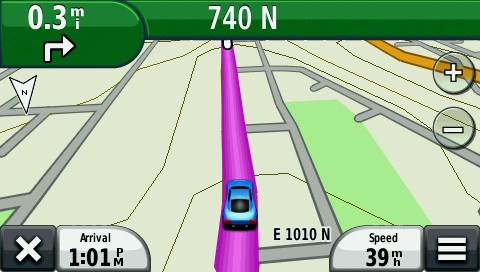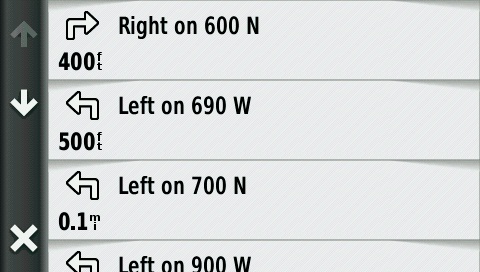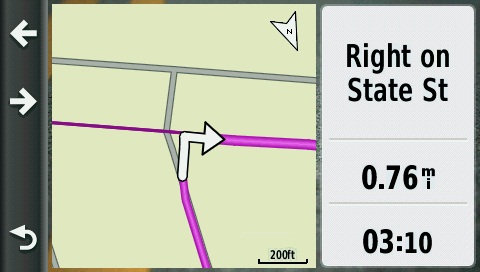 Route Options
While previous Garmin handhelds have only offered "Follow Road" or "Off Road" the Montana gives you several options for routing, to add to use in automotive, motorcycle, bicyclng or walking. For example, while bicycling and walking, you won't find yourself on an interstate, but less traveled highways. Here are the options below: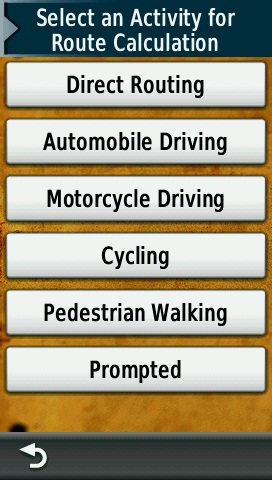 Profiles
The profiles option allows you to switch the settings instantly, depending on your activity or mapset you want to use. Helpful to switch while either hiking or for geocaching. I also use profiles to switch between different maps, which is much faster than changing the maps in the map setup page. You can also customize data fields, menu order, and colors and really have the Montana quickly switch to your preferences, depending on your activity.
You can create up to 10 profiles and also custom name them.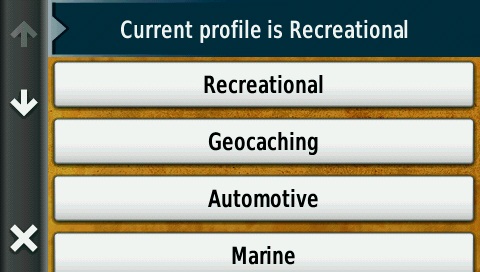 Elevation Plot


The Montana has a much improved elevation plot, for use with tracklogs. You can see where you were, what time and then see it on the map. Users will find a similar system to what is in the computer program BaseCamp and it is a welcome addition to have in a handheld unit.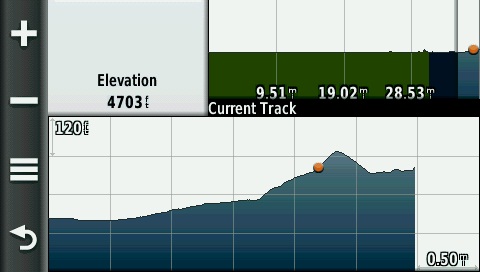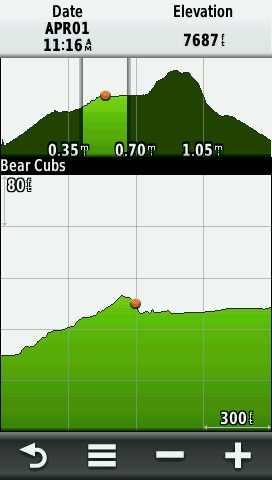 Camera/Photo Viewer

The Montana includes a built in 5 megapixel camera, with a digital zoom. This is an improvement over the Oregon 550 and 550t 3.2 megapixel camera. The lens is an autofocus, controlled by the touchscreen. The photos are automatically geotagged (as long as you have a satellite fix) and this is a nice feature while hiking, or geocaching. These days, there are better cameras in the average smartphone and many do allow you to geotag photos, but the Montana does a decent job in daylight. There is no flash and the lowlight photos aren't very good. That being said, the camera can come in handy. The 600 model, does NOT have this feature. The Montana also
supports geotagged photos you load in the memory either from your own photos or Garmin Connect Photos and gives you the ability to navigate to them. There is also a photo viewer. Below are two photos taken by the Montana 650t.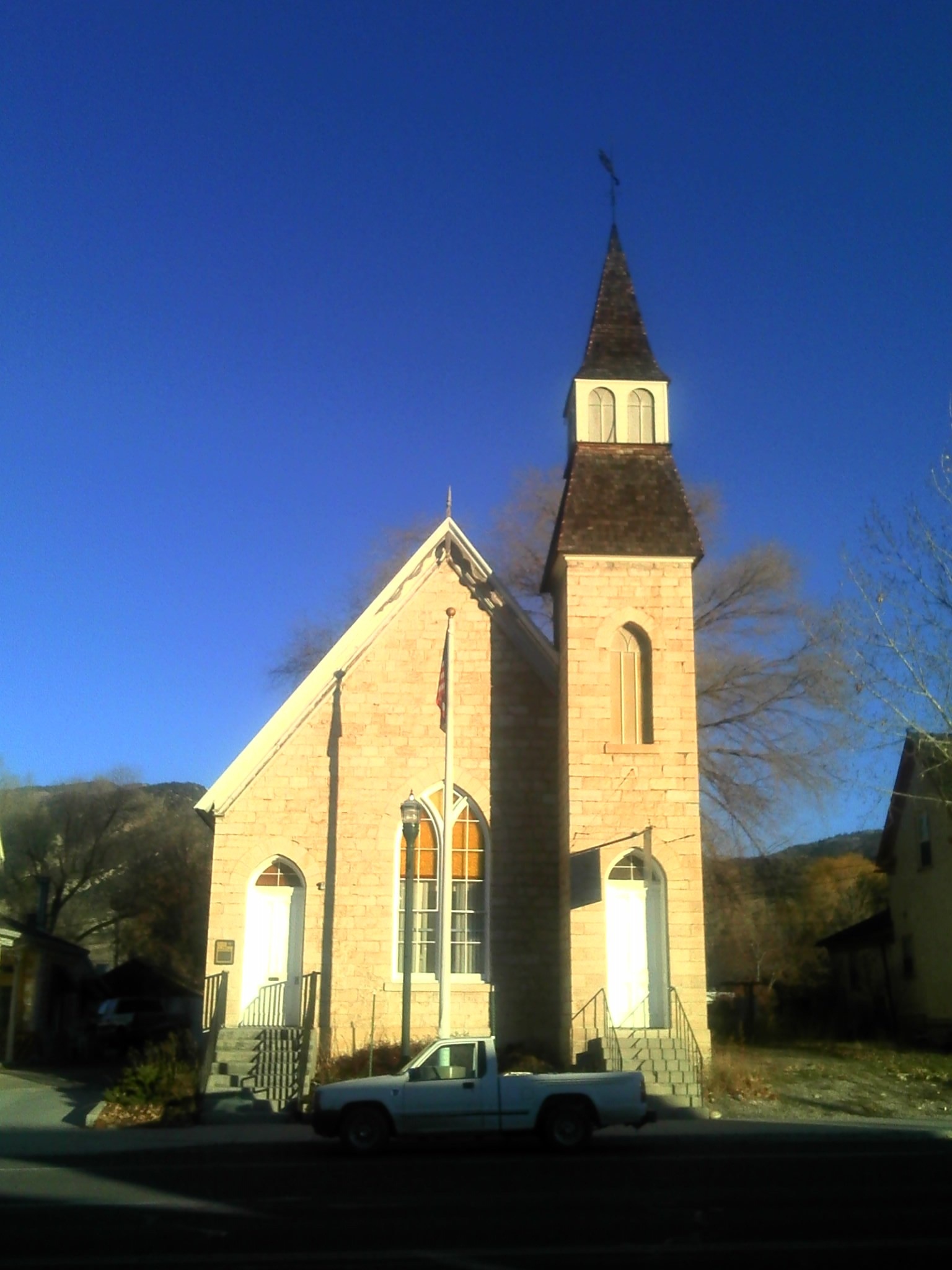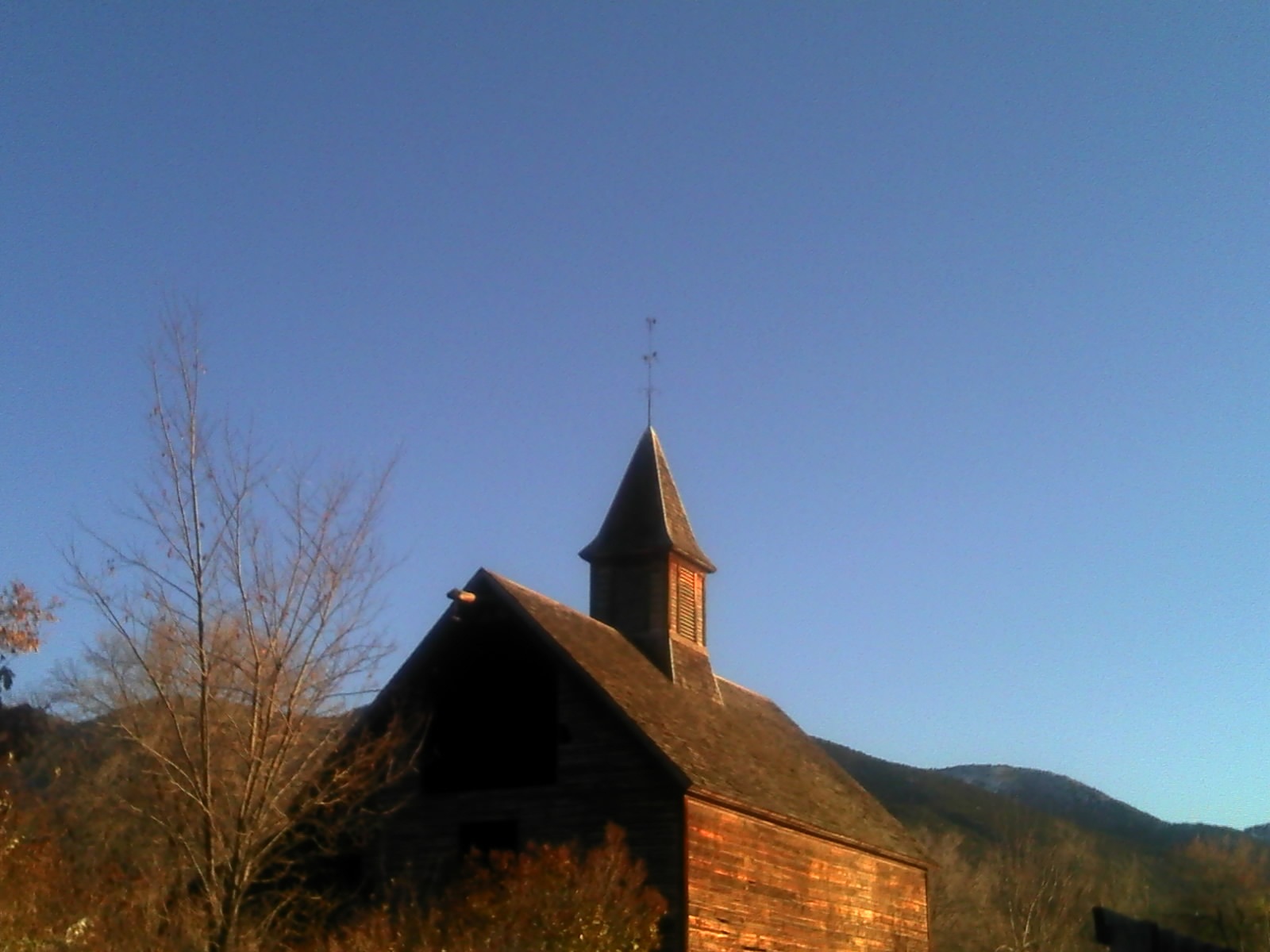 Montana 600, 650, 650t
There are three models of the Montana, but really other than the color scheme of the case, they are all are basicially the same. The only difference
in the 600 model is that there is no camera, which is something we think most people can live without. Both the 600 and the 650 do not have the preloaded TOPO maps and 3.0GB of built in memory, compared to the 3.5GB in the 650t.
You can compare the features of the three Montana units, by following this link on garmin.com.



Misc.



The Montana supports the trip computer, track manager, waypoint manager, route planner, waypoint averaging, man overboard and proximity alarms, along with
all of the previous extra features, such as sun/moon, hunt/fish, area calculation, stopwatch, calendar, calculator, and alarm clock.

There is no mounting spine or anyway to connect a carabiner clip to the Montana. You can attach a basic lanyard for extra protection while using as a handheld. We STRONGLY RECOMMEND THIS as the Montana can be hard to hold onto and can easily be dropped.

Waypoints, tracks, routes and geocaches are all handled as .gpx files similar to the newer Garmin handhelds, Oregon, Dakota, and 62/78 series. You can manage them with the free BaseCamp program by Garmin, which will actually make changes to the file in the unit, as you make them in BaseCamp. Be careful when the unit is in USB mode and do not delete any folders or files unless it is a .gpx file or file you are familiar with. The Montana allows for more data to be stored, including 4,000 waypoints! You can also have 200 saved routes and 200 saved tracks. The saved tracks do not include archived tracks.

The Montana is NMEA capable, but I have had trouble with the unit giving me an error message, when I connect the Garmin accessory cable. This will hopefully be corrected in a future firmware update.

Pros

Dual use for both outdoor activities and auto navigation in a vehicle
Packed with features
Extreme ability to customize use through data fields, display, etc.
Dual orientation screen,
can use both portrait and landscape views
Great screen quality to view maps, etc.
Rugged

Cons
Expensive
Heavy for hiking, geocaching
Have to purchase detailed Garmin maps, including CityNavigator for voice autorouting (Garmin 24K TOPO will work, but some map data will be outdated over time)
Have to purchase auto mount/power cable to use in vehicle (approx $50)
No mounting spiner for carabiner clip or bicycle use
The owner's manual is short on detail-- only very basic information is given.


(However, Garmin has published a very good article about the new features in the Montana in its

TrailTech

section. We strongly encourage you to read it.)



Bugs

The Montana has already been though numerous firmware revisions fixing some of the early bugs. There are still a few minor issues around as of this writing, but in recent months we have seen a new beta update almost weekly. The current version is 3.80. Overall, Garmin has made numerous improvements, including adding new features such as the vertical distance to destination, and there appears to be a good effort to improve the Montana. Of course, some users complain they feel like beta testers, however we do like to see these new units receive new features, as the product is innovated. To look for the latest updates, follow this link here and you will want to occasionally use the Garmin WebUpdater utility to get those updates, or check Allory's "What's New" page for immediate notification of when those updates are posted. He is also on Twitter: allory_d
Summary
The Montana is now the flagship Garmin handheld unit. Its pricetag is really the only negative and could discourage brand new GPS users, but for Garmin fans, it is the ultimate handheld device to date. Outdoorsmen, who travel in a 4X4 or an ATV, will find some advantages because of its size. Hikers will also like it and those who really want just one GPS for all uses, the Montana is for you. It has may great new features, which appear to be increasing and improving in software updates. With time, hopefully this unit will be priced in a more affordable range. You can learn more by checking out the Montana product page here There is also a color interactive ad page.

Questions/Comments: Visit the gpsinformation.net
Forum
Return to:
gpsinformation.net