Overview
The Garmin eTrex series is the newest updated version in Garmin's venerable small handheld line. It replaces the popular Legend and Vista HCx models and the eTrex series is now listed by number. There is the eTrex 10, the eTrex 20 and the eTrex 30. The eTrex 10 is the basic model ($119) that does not have any mapping capability beyond the built in simple basemap. The eTrex 20 ($199) adds the mapping option, while the eTrex 30 is the top of the line in this series ($299), sporting an electronic compass, barometric altimeter and the ability to wirelessly share waypoints and tracks with compatible Garmin units. The new eTrex series includes all of the recent improvments to Garmin units, such as the Oregon, Dakota and 62/78 series. (Paperless geocaching, multiple mapsets, Garmin's BirdsEye imagery, Garmin Custom Maps) A new feature in the eTrex is the ability to receive GLONASS satellite signals (the Russian version of GPS), which gives users more satellites to acquire data from. This can improve satellite reception, especially in canyons and under heavy tree cover. The eTrex is the first Garmin unit with this capability. You can check
discount prices here.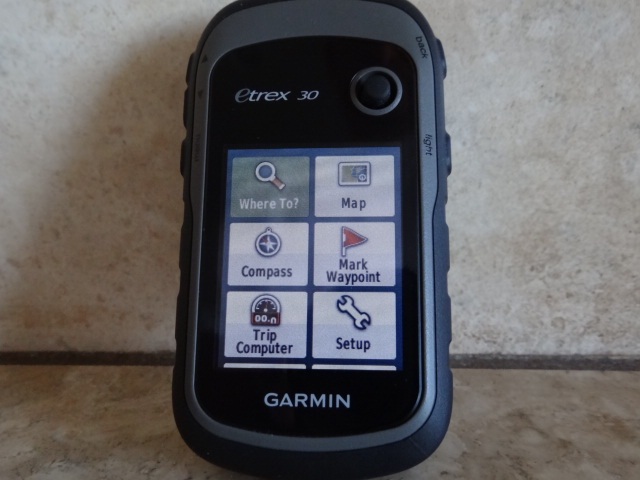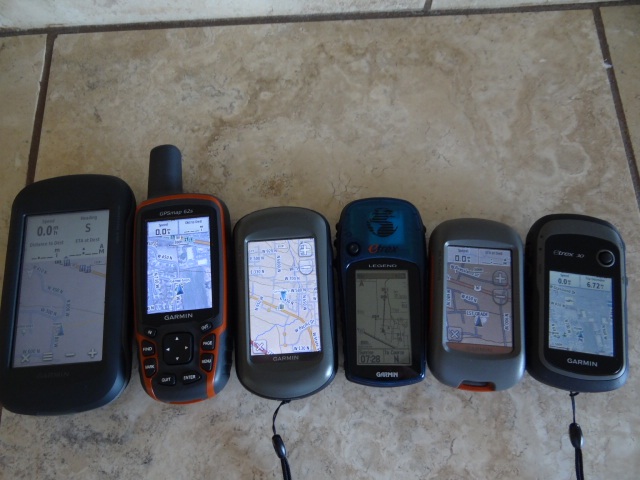 eTrex 30 (L-R Montana 650t, GPSMAP 62s, Oregon 550, eTrex Legend, Dakota 20, eTrex 30)

The eTrex 20/30 package includes the unit and a quick start guide, Unfortunately no caribiner clip is included, even though the back cover includes a mounting spine. The actual user manual is found in the memory of the unit itself as a .pdf file, in a folder labeled "Documents" or can be found on Garmin's Website by following this link.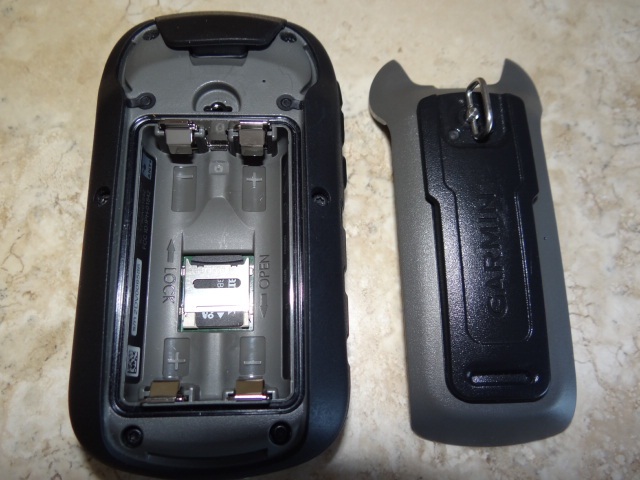 The eTrex 20 and 30 operate on two AA batteries and both support a microSD slot for additional mapping or BirdsEye imagery. There is already 1.7 GB of built in memory for maps and imagery. There is no high speed USB 2.0 connection, so loading data does take longer than the premium Garmin handhelds. NOTE: The USB connection is at the top on the back side of the unit, under a weather cover.


As a longtime user of the eTrex series, the first thing I noticed is that the joystick is moved from the left side, to the right, which takes some getting use to, but is easier to use if you are right handed. Previous users of the Legend or Vista will quickly be able to navigate around the new eTrex units as the buttons are the same and in the same place. A major improvement is that the unit is all in a hard plastic case, without the rubber seal, which often had trouble becoming loose, especially if the unit was left in the sun. The eTrex 30 and Vista HCx are almost identical in size, shape, and screen area.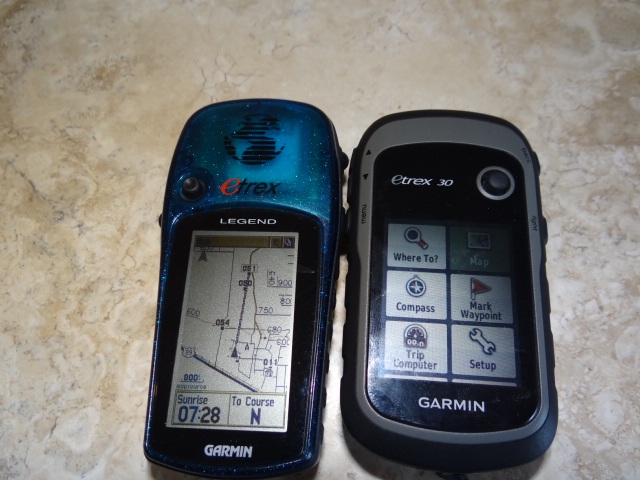 eTrex Legend and eTrex 30


Like the larger 62 series, the eTrex does not have a touchscreen, but the visibility outside is obviously much better than the Oregon / Dakota touch screens, with lower resolution than the Oregons. The screen size is somewhat small, 2.2 inches, but for people with good vision, is easy to see. One nice feature is that terrain shading is supported, but in the sunlight, the dark contrast can make it harder to see. You can easily switch off the terrain shading, if the map is too dark. The map redrawing speed while panning and viewing the map appears to be slow. Not sure if this is a software glitch or slow processor. However, the unit has no trouble drawing the map while you are moving, either hiking, or driving.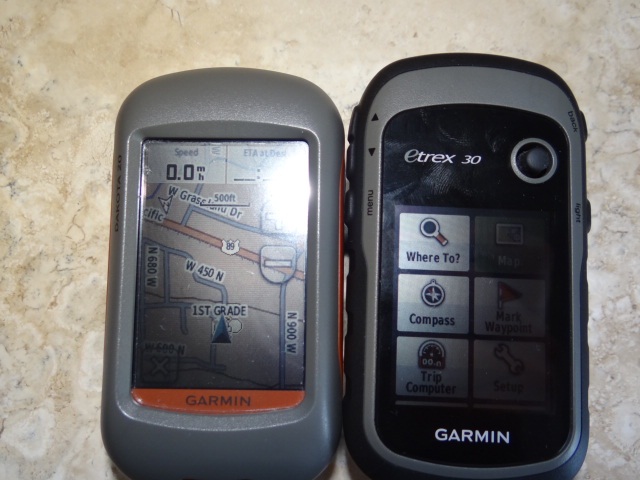 Satellite


The eTrex has a high sensitive receiver. It is also the first Garmin unit to receive signals from the Russian GPS system GLONASS, which will give you more satellites in view and thus makes it easier to acquire a signal and then keep it. I was able to get 23 satellites in view at once. 12 GPS and 11 GLONASS. This doesn't necessarily always improve accuracy, but does help with overall reception. I have had very good reception, even while hiking along trails and in tree cover.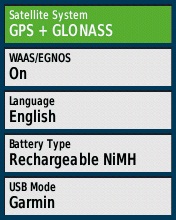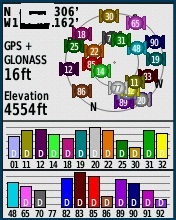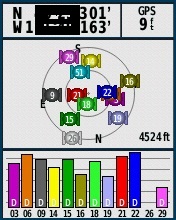 Select between GPS only or GPS+GLOSNASS GPS+GLONASS GPS Only

Screen
The eTrex has a 2.2 inch diagonally measured screen
and is listed as a 65K TFT Transflective, with 176X220 pixel. It seems a little small, after using an Oregon and 62s, but if your eyesight is average, will work fine. Some users have complained in the forums that the screen is harder to read, but from my perspective it is the same as the previous eTrex units.





Map


The eTrex 20/30 includes the basic basemap for the U.S. and has a color screen, and supports terrain shading and autorouting with compatible maps, including CityNavigator and the Garmin TOPO maps. You can either add the regional 24K maps that can be purchased from Garmin.com or the US TOPO 100K product. There are also several free or shareware maps available. gpsfiledepot.com is a good place to start. The eTrex 20/30 both support Garmin's aerial image product BirdsEye and along with Garmin custom maps, where you can take a paper map or other map and georeference it. We have found an easier way to do this is with the newest version of ExpertGPS.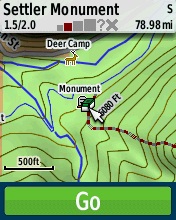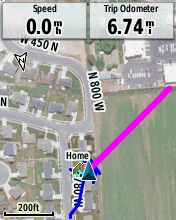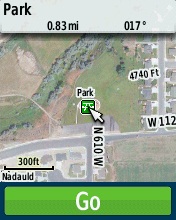 geocache showing terrain shading blue tracklog & magenta goto line Waypoint & BirdsEye Imagery



Geocaching


The new eTrex fully supports paperless Geocaching and Garmin's version, Opencaching. Descripton, hints, logs, etc can all be viewed in the unit. It also supports field notes, which will allow you to upload your finds back into the websites as you log online.
Only the eTrex 30 supports the Chirp feature in geocaching.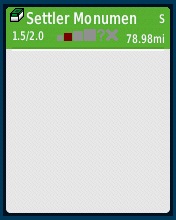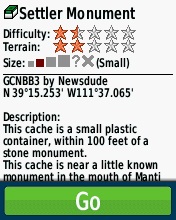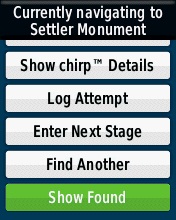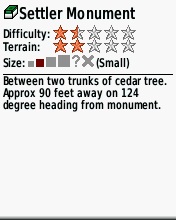 Cache with difficulty/terrain Cache description Cache mode Cache hint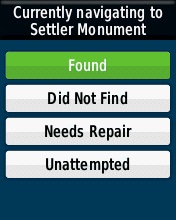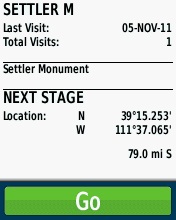 Cache outcome Chirp Data eTrex 30 only

Profiles
There is the profiles option, which allows you to switch the settings instantly, depending on your activity or mapset you want to use. Helpful to switch while either hiking or for geocaching. I also use profiles to switch between different maps, which is much faster than changing the maps in the map setup page. You can also customize data fields, menu order, and colors and really have the eTrex operate however you want it.
Profiles are a major improvement in my mind in the newer Garmin handhelds.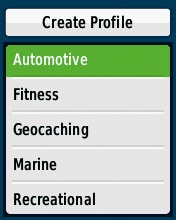 You can create up to 10 profiles and also custom name them.



eTrex 10


This is the base model. It does not have a color screen, but is monochrome, similar to the original Legend and Vistas. You cannot add any mapping, but there is a basic basemap. There is no internal memory and you can't use a data card. However it does support paperless geocaching. There is no option to use Custom Mapping, or Birdseye imagery. We don't suggest this unit for hiking or hunting, but if your only use is for geocaching, it is a good basic model to go with.



eTrex 20


This is the mid level model, which includes the color screen and full mapping capability. It fits into the same feature level as the Legend HCx. This is probably the best value for the money and we suggest new users go with this unit over the 10, in case you decide you do want mapping options, as it adds many more uses to your GPSr.

eTrex 30


This is the premium eTrex model, similar to the Vista HCx. It has everything as the 20, but also supports fitness devices, such as the heart rate monitor and bike cadence sensor. It also supports Chirp, for Geocaching.
Only the eTrex 30 allows for wireless data transfer of waypoints, routes, tracks and geocaches, between the Garmin Colorado, Oregon, Dakota, and 78s models. It also has the built in 3 axis electronic compass and supports Sight -n- Go, and a barometric altimeter.
You can compare the features of the eTrex 10, 20 and 30 using this link on garmin.com.



Misc.



The eTrex 20/30 supports the trip computer, track manager, waypoint manager, route planner, waypoint averaging, man overboard and proximity alarms.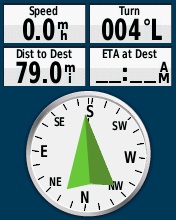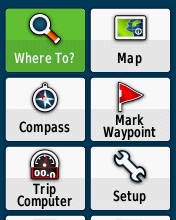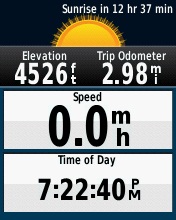 Compass page Menu page Trip computer

The eTrex 20/30 includes all of the previous extra features, such as sun/moon, hunt/fish, area calculation, stopwatch, calendar, calculator, and alarm clock.

The eTrex series has the same mounting spine as Oregon/Colorado/Dakota/62 and is compatible with the caribiner, bike mount, auto mount, etc.

Waypoints, tracks, routes and geocaches are all handled as .gpx files similar to the Oregon, Dakota, and 62/78 series. You can manage them with the free BaseCamp program by Garmin, which will actually make changes to the file in the unit, as you make them in BaseCamp. Be careful when the unit is in USB mode and do not delete any folders or files unless it is a .gpx file or file you are familiar with.

The eTrex 20/30 supports geotagged photos you load in the memory either from your own photos or Garmin Connect Photos and gives you the ability to navigate to them. There is also a photo viewer, but the smaller screen size doesn't make it really helpful.

The eTrex weighs 5.5 ounces, and claims up to 25 hours of battery life, using NiMh or Lithiums. Alkalines for me lasted about 17 hours, before I started getting a low battery message.


The eTrex 20/30 supports the dashboard feature on the compass, map and trip computer page, where you can add extra data to the screen. However, with the smaller screen it is not ideal, as compared to a 62 or Oregon.

Pros
Affordable
Small and lightweight for hiking, hunting
Full of all of the new features, including terrain shading, paperless geocaching, BirdsEye compatability
Improved case and design
GLONASS Satellite capability

Cons
Map drawing slow while panning map
Small screen can be an issue when looking at closeup map detail
No carabiner clip included in package
Compass page doesn't flow like a real compass, but quickly switches to correct direction
Have to purchase detailed Garmin maps
Once again the owner's manual is short on detail-- only very basic information is given.
(You should check out Garmin's TrailTech for several tips, improvements and tricks to this unit)

Slower data entry, compared to the touchscreen input on Oregon/Dakota units.
Bugs

The eTrex shipped with software version 2.20, but has been updated to 2.40 as of this article. A few bugs have been corrected, but I have not encountered any serious errors in more than two months of use. One bug involves an issue with BirdsEye mapping and imagery staying the same (enabled/disabled) across all profiles. Another is that Custom map images are showing up in the photo viewer. There have also been reports in the forums about a problem loading large geocache pocket queries into the eTrex. As always, Garmin will make firmware improvements and you will want to occasionally use the Garmin WebUpdater utility to get those updates, or check Allory's "What's New" page for immediate notification of when those updates are posted. He is also on Twitter: allory_d
Summary
The new eTrex series is a welcome addition to the Garmin handheld line. It offers everything previous eTrex users have enjoyed, with the latest and greatest features found in the other Garmin handhelds. The fact you can get an eTrex 20 for under $190, with all of the features except the electronic compass, altimeter and wireless feature, is a great deal, especially with paperless geocaching. The extra money ($90) for the eTrex 30 isn't necessary, but is a nice luxury if you really want those features. The screen size is much smaller than the 62 series, but the eTrex is an affordable alternative. You can learn more by checking out the official eTrex product page. There is also a color interactive ad page.

Questions/Comments: Visit the gpsinformation.net
Forum
Return to:
gpsinformation.net