Overview
The Garmin fenix is the newest outdoor GPS receiver by Garmin-- an ABC style watch (A for altimeter, B for barometer C for compass) that has full GPS capabilities including waypoints, a tracklog, trip computer, compass and paperless geocaching. There is also a very rough basemap, which reflects waypoints and tracklogs. The fenix allows you to easily transfer waypoints, tracks, geocaches or routes between other newer Garmin handhelds-- so you can send the route you want to follow on the fenix or send waypoints you marked on your fenix to your handheld. There is bluetooth capability for BaseCamp Mobile, a FREE data management program, which is compatible with newer iOS Apple products (iPhone 4S, iPhone 5 and the New iPad and newer) (As of this writing there is no app for Android devices) This feature adds helps to make the fenix even more useful. The fenix has an MRSP of $399 and you can check for discount prices here.


NOTE-- I have taken several screen shots to show you the features of the fenix, using the Garmin xImage program. The images show up as a square and I am expanding the size, so the resolution is worse than reality. There are a few actual photos of the screen to help you see the difference.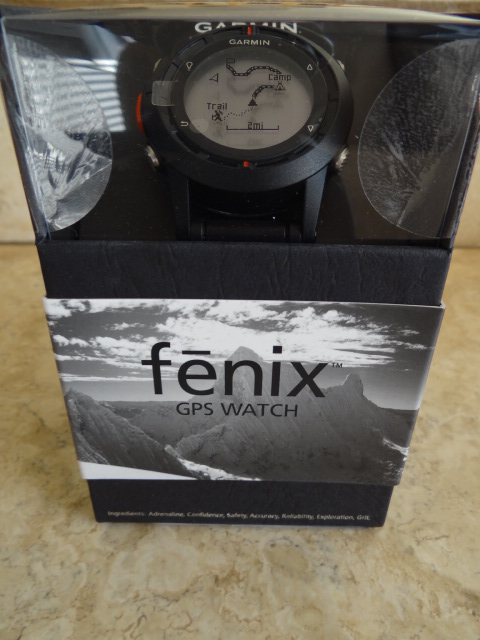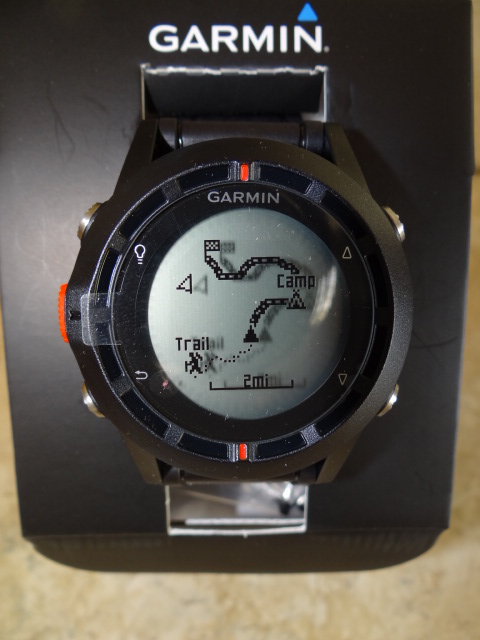 The fenix package includes the fenix watch, USB to serial connector, plus AC USB charger.

Watch


While we are mostly interested in the GPS functions, the fenix first and foremost is a watch, using GPS signals to ensure you are running on the exact time. In addition, there is date, alarm, timer, chronograph, chimes and vibration alerts available. The watch uses hash marks that circle the display, to indicate the seconds. These hash marks also are used as a status bar on progress of a function and as an indicator of the direction of a waypoint or direction of the compass. The watch also has several user options to view time, date, seconds, 24 hour time, etc. It also features a World Clock, so you can see the time in other locations you choose-- this is labeled as ALT ZONES in the menu, then you must select it as one of the pages you scroll through.





(Battery life and charging icon visible on watch because it was connected to computer but is not seen in normal watch use)



Battery Life


The fenix contains a built in 500 mAh lithium ion rechargable battery. Battery management is critical for outdoor use, or you can lose the use of your unit if it runs out of power. However, the fenix is designed to easily switch the battery consuming functions on/off. The battery does recharge fairly quickly, I have found it will go from less than 10% to 100% and that takes about 2.5 hours. There is a battery meter on the main page, which has both a display of a graph and percentage of battery remaining and is visible every time you select the orange mode button. You can also customize battery alerts to let you know when the battery level reaches certain levels.





Battery use is very heavy in full GPS mode-- I've noticed a 15% drop per hour-- it is rated to run 16 hours, but I believe you are looking more at just 6-9 hours, with all features, and sensors on. The 16 hour rating is the same ballpark as the newer Garmin handhelds, however with the fenix you can't put in fresh AA's. Garmin does sell a rechargeable USB/Solar battery made by powermonkey and branded by Garmin. I have one and we recommend you have something similar if you plan to be in the outdoors away from a USB connection for more than a day, to keep the fenix charged for the duration of your trip. The fenix does charge while connected to a computer in Mass Storage Mode or with the included AC USB wall charger. Battery use for each mode is discussed in the following paragraph about the modes of the fenix. Garmin states the battery life is 4.5 years, with 1 hour of use per day-- I am guessing this means full GPS mode. So at some point, the battery would have to be replaced at the factory.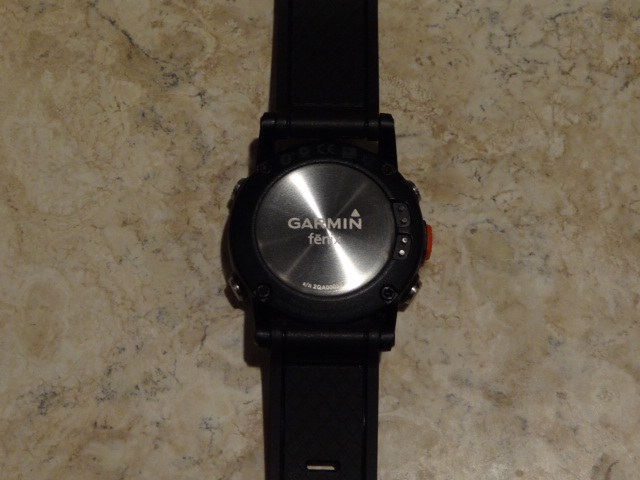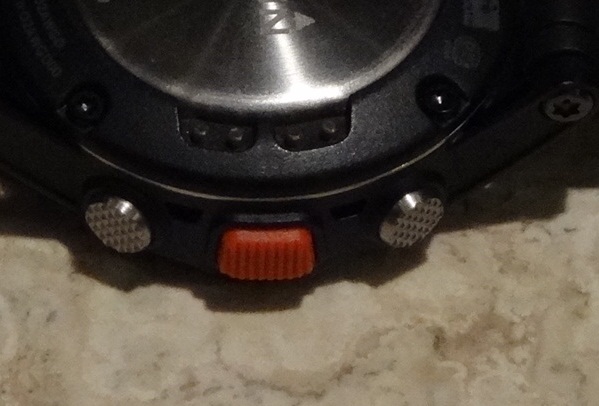 Back of unit, showing contacts for data transfer and charging.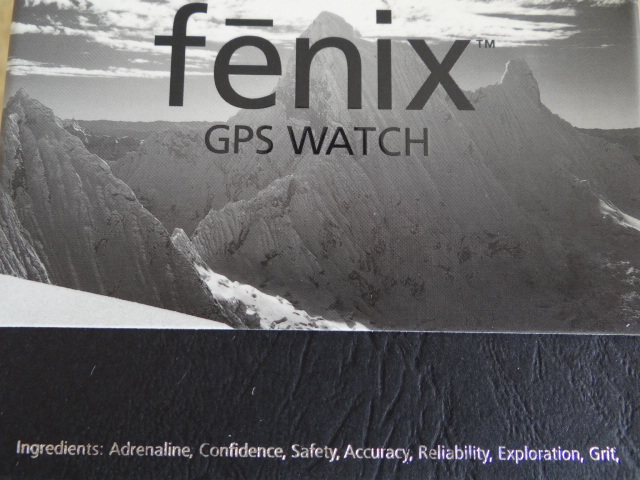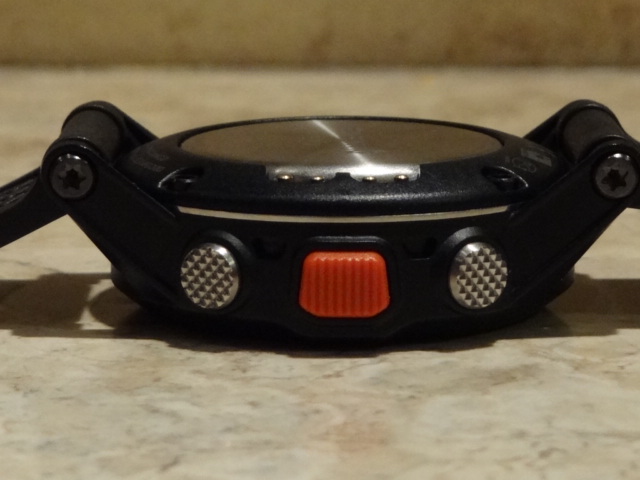 Marketing of fenix on package, and then side view of unit. Orange button is mode button, four silver buttons, for power/backlight, back, up, down.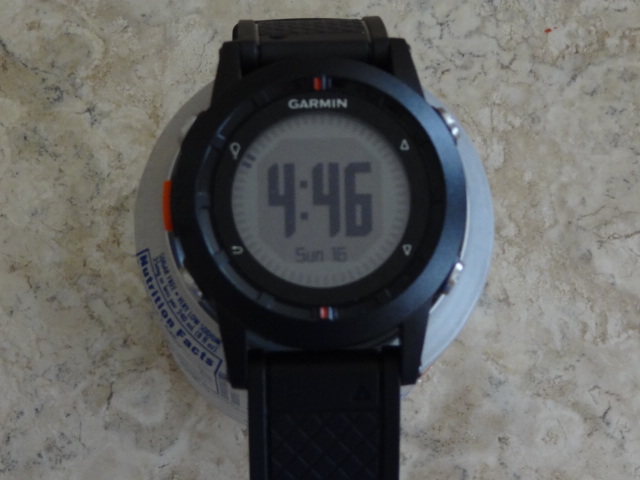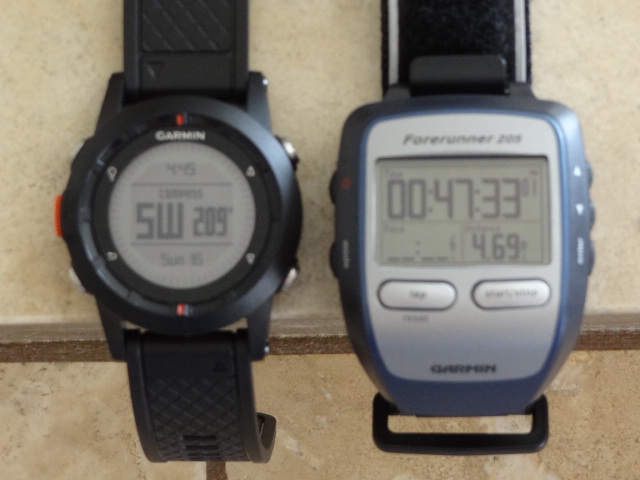 Perspective views oni size of fenix. L- fenix on top of soda can, same size as lid R- Fenix side by side with the Garmin Forerunner 205

Also note on left image, the hash mark, indicating approximately 50 seconds.
Modes


There are five modes in the fenix:

1- Watch only-- time functions, including alarm, stopwatch. Battery life in this mode rated for 6 weeks.

2- Sensors only-- altimeter, barometer, compass, and temperature. Sensor use always on is rated to last for two weeks, but the default mode for sensors only is "on demand."

3- UltraTrac-- records a GPS tracklog point at a user selected interval and at once per minute and is rated to operate for 50 hours. This is the mode we suggest you use while in the outdoors, unless you are navigating to a location.

4- GPS mode-- All watch, sensor and GPS functions actively working. Battery life is rated at 16 hours. Again, from my experience, expect much ess, especially with any backlight use. There are functions that easily allow you to switch GPS on and off-- while eating lunch on a hike, etc, to increase battery life. Simply press the mode key to either "Start GPS" or "Stop GPS"

5- Train Indoor-- This was a new feature added after the release, which allows you to connect to a Garmin foot pod and get distance information on an inside track, etc. It greatly improves the fenix for fitness use.



Screen


The screen on the fenix is an 70x70 pixel LCD monochrome, 1.2 inches by 1.2 inches, with a backlight. Garmin states the screen is scratch resistant with a 'mineral glass lens.' I have not had any scratches in nearly four months of daily use. The screen is recessed a little bit by the bezel, which offers some protection as well. There is also a function that turns the backlight into a flashlight-- providing enough light to see in the dark, around the tent, etc.
ABC Watch



The fenix is a true ABC watch: You can keep the sensors on always on or to preserve battery life, can set it to "on demand" which requires about a five second delay to enable the sensors and to get a reading. Here is a summary of these features:




Altimeter


The altimeter gives you your current altitude. You have the option of using pressure based elevation data through the barometer and can allow correction provided by GPS signal. You can calibrate based on the current pressure (barometer) or if you know your current elevation, or from GPS altitude. Calibration is done is Setup>Sensors> You can customize the data fields to reflect both pressure altitude, along with GPS elevation. You can also switch between feet and meters.







Barometer


The barometer will give you the current pressure and you can determine from a drop or rise in pressure about impending weather conditions. You can choose the unit pressure is measured in, from inches, millibars, etc. Data fields for max ascent, ambient pressure, etc are also available.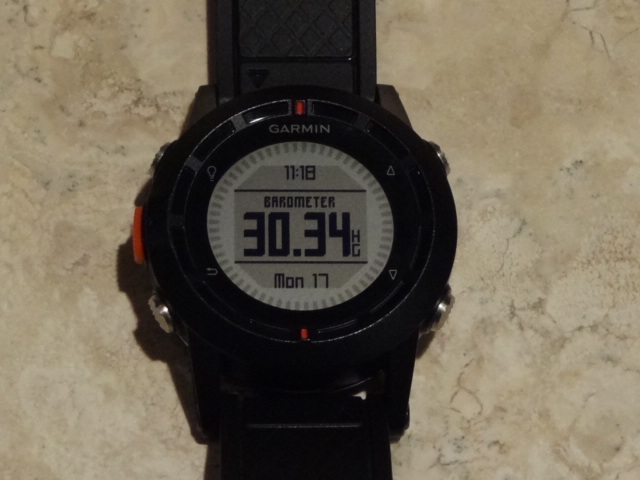 Compass


The compass is a three axis, electronic compass and can be displayed with an arrow or with the hash marks on the watch. It also provides current heading with letters (N, E, S, W) or degrees and you can select between true north, magnetic north, grid or user mode. You can calibrate the compass, in the same three step process used to calibrate Garmin handhelds. Sight - N - Go is also available, in projecting a waypoint to navigate to.




GPS Functions
The GPS functions is what in my mind makes the fenix such a valuable tool-- You can always have a GPS unit with you, for daily use or while in the outdoors.



Main Menu


You can customize the main menu, to any features in any order you are interested in. You use the up/down arrows to navigate the menus and sub-menus.




Satellite


The fenix has a high sensitive receiver-- it is not known which chipset is being used, but the software version is listed as 2.10. Reception is good and typically the fenix has a lock within 15-20 seconds. You can see the lat/long, signal strength and satellite location through separate pages. There does seem to be some lag time on the speed displayed, a 5-6 second delay for some reason and this has not been corrected as of this writing.

While Garmin introduced the GLONASS capability (Russian GPS System) in the new generation eTrex 10, 20, 30 last fall, this feature is missing from the fenix. I am somewhat disappointed in this, but wonder if Garmin left GLONASS out of the fenix, because of the increased battery drain to receive both GPS and GLONASS signals.
You can also switch position format, and datum and enable/disable WAAS correction.
A satellite icon appears on top of the Time of Day page of the watch, to indicate a satellite lock.







(I should point out these screen grabs were taken in my basement, so the signal level appears lower than it typically is)



UltraTrac


This may be the best option in the fenix, recording a trackpoint once every minute, but using very little battery. You can then download this data and see where you were-- For hiking, jogging or walking, you will get a pretty good tracklog-- not as accurate, especially if you are turning alot, but a good representation of where you have been. The default time is once per minute, but in the track setup, you can change the interval to less than a minute. Garmin states that once every 20 seconds should give you 24 hours of use in this mode. I have found this is the mode I am operating in most often. If you need to navigate to a waypoint, you can switch to full GPS within a few seconds and two button pushes.








GPS Data


The fenix allows for 1,000 waypoints, 50 routes and 10,000 trackpoints and 100 saved tracks. There is 20MB of built in memory, but you cannot add a memory card to expand this. You can also add your own CustomPOI's-- tens of thousands of locations you load in yourself. When connected to a computer, the fenix shows 24MB of memory and with my 250ish waypoints added, about 10 saved tracks and 6,000 Custom POI's, it is still shows 19MB of memory remaining. I should also mention that the first time you power up your fenix, after sending data from BaseCamp, it will take several minutes to load the data, with the hash marks indicating the progress. I was worried the first time about how long it was taking, especially if it would be that slow each time I powered on the unit, but I have found it is slow only during the first power on after sending data.







Mark


You can easily mark a waypoint, by holding the mode button (orange) for about two seconds. You can then edit the name and save it.






Routes


You can create a route or send a route to your fenix from BaseCamp and then navigate to is, using the active route feature.



Tracks


You can record a tracklog, save it or send other saved tracks to your unit to navigate, using the Trakback feature, which will guide you on the track. It is easy to turn tracking on or off, so you only get the data you care about. Sitting still, for instance under a tree will create a lot of useless trackpoints.


Profiles


The unit allows you to have certain settings for different activities. Hiking, jogging, cycling, aviation, even mountaineering. This is a great feature in the newer Garmin handhelds and I am glad to see it in the fenix. You can also create additional profiles or rename, to fit your activity in the setup, under Profiles and "Create New."







Trip Computer


There is not a dedicated Trip Computer, rather data pages. The great thing is you can customize them to your liking. There are two sets of data pages, one for tracking mode and other for navigating to a location. All of the usual data fields are available, for time, distance, speed, barometer, etc, including Vertical Distance to Destination, a data field added for the Montana and one I hope shows up in the other Garmin handhelds. You can usually use up to three data fields per page, or as I show below, one data field with Vertical Distance to Destination shown.








Mapping


The fenix includes a very rough, very basic basemap. This allows you to see tracks, waypoints, a goto line if you are navigating somewhere etc. While Garmin says it does not support detailed maps, this is not entirely true. I was able using MapSource to upload 9MB of mapping files to my fenix-- both Garmin's 24K topo maps and Garmin's 100K TOPO 2008 product. The streets and contour lines do show up on the map-- however, do not get too excited. After being use to the color screen Garmin handhelds, it doesn't look very good, but it is there. Probably the best feature, is that Points of Interest in these mapping programs are also loaded, so campgrounds, lakes, mountain peaks, etc. are loaded in and you can navigate to them. If you want to try this, keep in mind a couple of things: The 24K mapping includes CityNavigator type POI's, such as businesses, restaurants, etc and that data won't be as helpful as geographic points. For this reason, I ended up only keeping the 2008 100K TOPO on my fenix, which only loads those geographic points. The file sizes of 2008 TOPO are much smaller, both in geographic size and data size, so you can load more area in. Also remember 15 MB is probably your limit for mapping-- still for us early users of the Garmin handhelds, Legend, Garmin V, etc, 15 MB is a lot of data. Regardless of if you load maps, you can pan the map (2 step prompted process) and zoom in and out the detail. Others have reported in the forums they have loaded mapsets that were already created as .img files or used Garmin's MapInstall.









Mapping examples, L-R tracks and waypoints only, mapping with water & topo, two scales of mapping with a road & topo lines





Geocaching


The fenix has the full geocaching features included in the new Garmin handhelds, including paperless geocaching, with summary, hint, logs, etc all available.
I don't see at this point it is capable of handling field notes, but you can log your attempt and then upload your results when you get home.








Temperature Sensor


The fenix does have a built in thermometer, which will give you temperature readings, however if it is on your wrist, the reading will be in error. Garmin says you must have the unit isolated from your body for 20-30 minutes for an accurate reading. Garmin has just released the tempe sensor, which is an external unit, the exact same size as the geocaching chirp sensor, with a clip for your backpack, jacket zipper, etc. Through my testing of a tempe, it works well and gives accurate readings, when I have it placed next to a regular thermometer. They sell for $30 each and are also compatible with any Garmin ANT sensor capable handhelds, Montana, Dakota 20, Oregon x50, 62s/78s, eTrex 30 units-- (still waiting for firmware update on the eTrex 30) but I have tested the tempe with the 62s, Oregon, Montana and Dakota 20 units. You must first turn on the tempe in the ANT sensor menu, and then search for new-- then it will connect automatically as long as the sensor is enabled.





Temperature reading from tempe sensor, with history graph below



Alerts


There are several custom alerts you can create, from proximity, distance, time, elevation, nearing destination, pace, heart rate, cadence, and low battery. You can then customize the alert, whether it is a tone, vibration or both.


Fitness


The fenix in my mind offers the best of both worlds. While I have wanted a wrist GPS, I have had to settle for the early Forerunner versions, 201, 205 that had very basic GPS functions and made me look like a geek for wearing it. Now the fenix offers a stylish watch, that gives you anything you would want in a fitness watch, including capability for a heart rate monitor or speed cadence. You can also use Garmin Connect to upload your exercise- at this point, even though the fenix is ANT enabled, you must make a physical connection to the computer. Garmin Connect helps manage and analyze your fitness data and also allows you to create courses, in advance of a run/walk. According to Garmin here are all of the fitness functions in the fenix:
Fitness functions include: user profiles for running and cycling, Auto Pause®, Auto Lap®, alerts, customizable data fields such as heart rate, distance, pace, calories, laps and more
. Garmin also allows the fenix to export FIT files-- a Garmin data file, with .fit extension, with fitness information that can be uploaded for analysis. I have been able to pair my heart rate monitor with the fenix. Garmin added the Train Indoor mode in a recent firmware update and so I bought a Garmin Foot Pod and began using it. I have found I really like it, as I can walk and jog at the local recreation center inside and get a fairly accurate distance reading, including calories burned, steps taken, steps per minute (cadence) and moving time etc. There is little battery drain in this mode. Outside in fitness mode, you get the same features you do in a Forerunner, but it runs the battery down much faster. You can also setup a user profile, of age, weight, and height to help calculate calories burned, etc. Garmin posted a blog about the changes for using the fenix for indoor training here.




Connecting to Computer


The unit includes a mount, which allows you to connect the fenix to a computer and to Mass Storage, where you can edit your data by using BaseCamp. It also has the option of the Garmin protocol interface for use with other Garmin programs. I have used xImage for screenshots, but have not had a chance to test other programs yet to see what works in Garmin mode.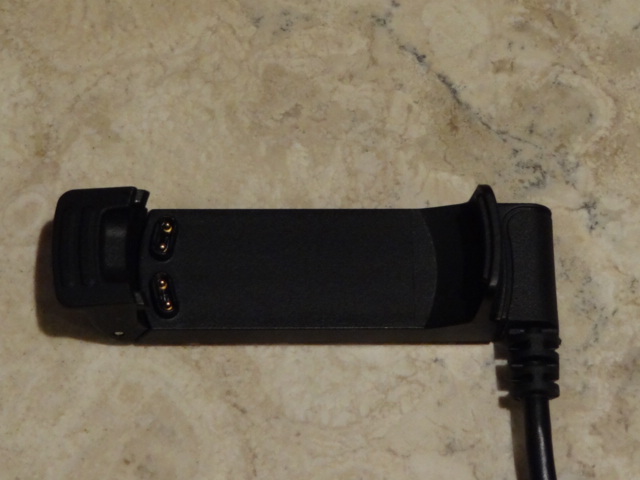 The unit is charged and connected to a computer, through a charging and data cradle, that snaps on the back to four metal contacts. I like the design of the cradle, which has a hinge to help make the connection.



Share Data





Smartphone Connection-- BaseCamp Mobile


This is one of the best features of the fenix, the free BaseCamp Mobile iOs app to allow you to transfer data to and from your fenix. This means seeing tracks, routes and waypoints, on a map with streets and satellite mapping, similar to what is available with the Garmin Tracker app, for the GTU 10. This app is not available for Android and it is unclear if it will be. However, I have loaded it and used it on my new iPad and my wife's 4S and my new iPhone 5. You can create a waypoint on the map and send it to the fenix, along with look at graphs of your elevation and speed on tracks and review waypoints. For now, it is a basic program, but looking at your data on a color map, with streets, satellite imagery or a hybrid of both, is helpful, especially when you are out on an adventure. (Your iPhone or iPad must have internet connection to download the mapping data.) According to Garmin:
fēnix is equipped with both ANT capabilities and Bluetooth® to wirelessly share tracks, waypoints, routes and geocaches with other compatible Garmin devices or smartphones.
In the SHARE DATA option, it allows you to send data UNIT to UNIT or BaseCamp. When you select BaseCamp the fenix goes into a Bluetooth mode, and then will pair with your Apple device. So far, it does not appear you are able to send real time GPS location data to the app, such as the new GLO unit Garmin has just released. Garmin promises new features will come to this app and I am really hoping that is one of them. I think over time, we will see more improvements. There is no mention of the Smartphone connection in the fenix manual, but here is a blog entry with more on garmin.com, including screenshots of the app in action.







Unit to Unit Transfer


Another option is to share data with other Garmin compatible handheld units-- You can share geocaches, waypoints or tracks with others you meet out on the trail, or if you have a handheld and want to see your data on the screen, or with BirdsEye imagery, you can do this. I should point out there as of this writing, there is an issue with transferring tracks from the fenix to the handhelds, but I have successfully send waypoints, and geocaches back and forth.






Hold Buttons


There are two 'hold buttons' quick one touch (about three seconds) function keys, you can customize, although the function options are limited. The top hold key for me is start/stop tracking, while the bottom hold key is the flashlight-- a full brightness of the backlight with no data on the screen. It times out after one minute, but can help you around a dark room, tent, backpack at night, etc and would provide similar light that a cell phone screen would-- and on an overnight camping trip it did come in handy for me.







Misc. Features


The fenix also supports sun/moon, hunt/fish, area calcuation, man overboard GPS related features



Wristband
If there is one thing I am not thrilled about the fenix, it is the wristband. For me, it is either too tight or too loose and leaves my wrist sweaty. It's not terrible and is not physically connected to the watch like some Forerunner units. Garmin does warn that the wristband can be discolored by using lotion or sunscreen on your wrist. I do like the wristband design as far as the connection to the actual unit and the ability to be able to change bands. Garmin also sells similar wristbands that are olive or orange in color.




Glitches, Bugs, Firmware, etc.


As with any new Garmin unit, there is usually a few bugs that are fixed through firmware updates. Often, Garmin will also add new features in these updates and we've already seen that with the fenix.
Here is what I have found so far:
I have had trouble sending tracks from the fenix to the Garmin handhelds. Waypoints and geocaches seem to be transferring with no issue.

BaseCamp is having trouble downloading some .gpx files from the fenix-- the files appear to be waypoints or geocaches I have wirelessly transferred to the fenix. Regular files will eventually show up, after you clear the error messages from the.gpx files that BaseCamp does not recognize.

The unit shipped with with software version 2.40, but is now to software version 3.00, which is the latest software available as of this writing. As always, we recommend you use the WebUpdater program from Garmin or connect your fenix to their BaseCamp progam which will allow you to update firmware. You can also check
to see when those updates are posted on Allory's "What's New" page or for immediate notification, follow him on Twitter: allory_d



Features we really like


Ability to customize menus, data pages, etc-- a lot of freedom in how your fenix operates
Flashlight option-- full backlight for some light in a tent, etc.
Quick recharge time (about 2 1/2 hours)
Ability to directly input lat/long coordinates
Full waypoint options, reposition here, project waypoint, waypoint averaging
Cities database included-- rough location of a city/town's center
Ability to add Custom POI's
One touch tracklog start/stop
Hold keys (up and down button can be customized to certain functions by holding for one second)
Key lock mode (press mode and up button)
Time of day is automatically set by GPS signals

Can upload your activities to both Garmin Connect and also to Garmin Adventures
Limited ability to add detailed mapping
Foot pod capability

Garmin's list of the specs on the fenix can be found here.



Areas for improvement


No startup page, to allow you to add your name or phone number that is available in handhelds in case it becomes lost (I am really hoping for this)
No ability to add a proximity alert through waypoints. (If you add a proxmity point on the waypoint in BaseCamp first, you will get proximity alerts)
Lag time in display of speed (5-7 seconds)
Not a big issue for me, but for those who care, there are no tide tables
Pros


Profiles-- settings can be quickly changed depending on your use
Ability to customize data fields, page order, 2 'hold buttons' etc.
MOB (Man Overboard) option
Full geocaching abilities, including chirp
Waterproof to 50 meters, for 30 minutes
Ability to connect to an Apple smartphone or tablet to transfer or share data
Seems to be rugged for outdoor activities


Cons
Built in lithium battery, only can be serviced at the factory.
Battery drain is fast, with all GPS features running.
Editing waypoint names, is fairly tedious-- but marking with an abbreviation then editing in BaseCamp is much easier.
There is only 20 Megabytes of memory and no ability to expand it, however this doesn't seem to be a problem as I have a lot of data loaded in with 19MB remaining (before loading the maps)
The pricetag may be a little high for some users at $399, though similar high end ABC watches are in the same price range and the fenix includes GPS capability.


FAQ


Garmin has already posted a few frequently asked questions, which are informative. Follow this link for the 31 FAQ's now available



Demonstration Videos


Garmin has produced several short (about 90-seconds) videos, demonstrating various features and functions on the fenix. They are worth watching if you are considering this watch or if you have purchased one. This link will guide you to the first video on YouTube, then you can see on the right side, related videos.


Summary



I am of the opinion, the fenix is a well thought out product and I am excited to have one. It is a nice looking watch, that doesn't look out of place for use in everyday wear. As a heavy user of Garmin handhelds, I am thrilled for it, because I don't have to have a GPS in my hand while hiking, but can see the data I want. The fenix will also be attractive to those wanting an ABC watch, but with the added benefit of all GPS functions in a handheld. Now owning an iPhone, the ability to view and edit data on the phone, is a huge plus for more. To learn more, Garmin has a dedicated interactive website on the fenix you can find here. To see the official product page click here. Here is a direct link to the online owner's manual.

Questions/Comments: Visit the gpsinformation.net
Forum
Return to:
gpsinformation.net