Overview


The Garmin nuvi 3590 LMT is the "Prestige" Garmin 2012 model and offers all of the Garmin navigation options, including the new Smartphone Link, which uses your Android phone to gather various data. (The LMT denotes that included in the package includes lifetime map updates and free traffic). The 3590 has a 5 inch screen, while the smaller 4.3 inch screen 3490 LMT offers all of the same features, but is the very thin model. The 3590LMT lists for a somewhat reasonable $379. It also has cell phone bluetooth hands-free calling, along with much improved voice activation. Scaled back models without the premium features are available such as the 24x5/25x5 series. The 3590 LMT package includes the unit, a suction cup mount, which has a built in speaker and a vehicle power cable/traffic receiver.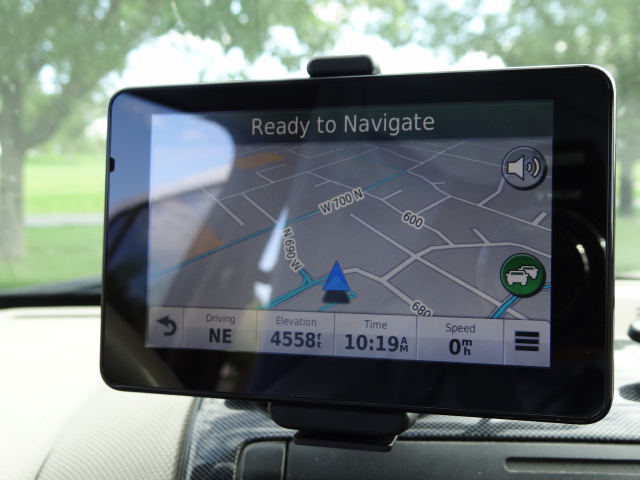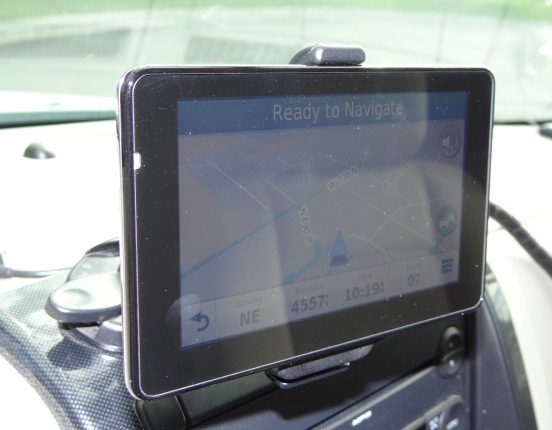 I had been using a 3790 LMT for about 18 months which I had enjoyed and didn't think the 3590 had much more to offer me. But I quickly found that this newer model has many improvements. The voice activation works very well in the 3590, including the ability to speak an entire address at once, instead of the steps of entering house number, street, city, state, etc. It also is more accurate and I have not had to 'yell' my instructions to the 3590, as I often had to with the 3790. The ability to get real time weather data, even traffic cameras, via your Android smartphone is also a major upgrade. The unit is not perfect, but brings back some navigation features left out of previous nuvi units, such as
custom avoidances, and adds speed limit corrections, more flexibility in data fields and custom dashboards.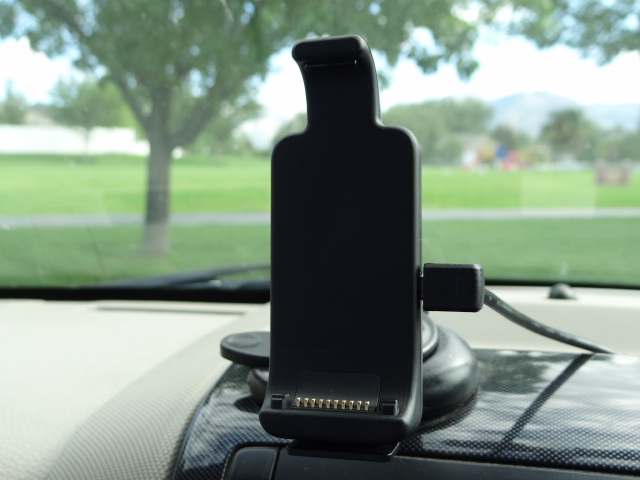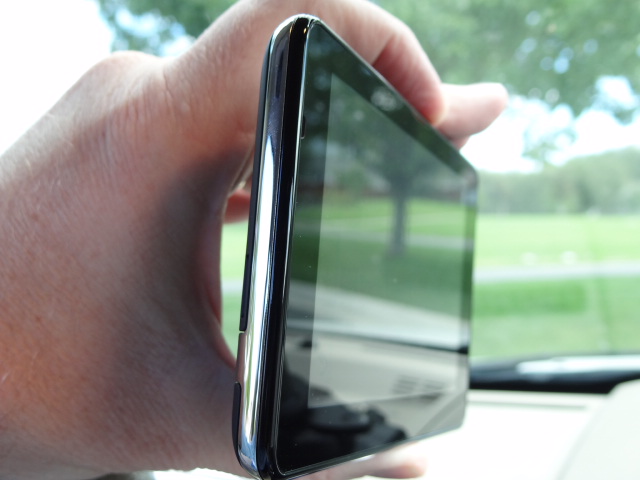 The 3590 includes all of the standard Garmin features, but also includes what Garmin calls Garmin Guidance 3.0. It also brings back a few favorite ones that had been phased out, including the ability to browse/pan the map and real time data, via your Android smartphone. The lifetime traffic does NOT include ads.



2012 Lineup


Garmin introduced several units labeling them part of the 2012 lineup. It is divided into units that are categorized as "essential" (economy units nuvi 30, 40, 50) "advanced" (mid-range 24xx/25xx) and "prestige," which is where the 3490/3590 fits in.




SmartPhone Link


The 3590 and 3490 are compatible with Garmin's new Smartphone Link, which uses bluetooth to transfer data between the GPS and Android phone. There is a free app available from Google Play and then premium services are available for a yearly subscription, which for what you get is very reasonable. It brings back the same type of features that use to be in the nuvi connected units 1695, etc which had a built in cell transceiver for the data. The GPS and Android phone automatically connect in most cases, after the two are paired. The range is anywhere in the vehicle. You can click on the app on your phone to connect, if it does not automatically. Recent firmware updates appear to have improved the automatic connection, although some users are still complaining in the forums, I have found it to be working better. The Smartphone Link icon in the upper right corner of the 3590 screen or the icon turning blue on the Android represents a connection.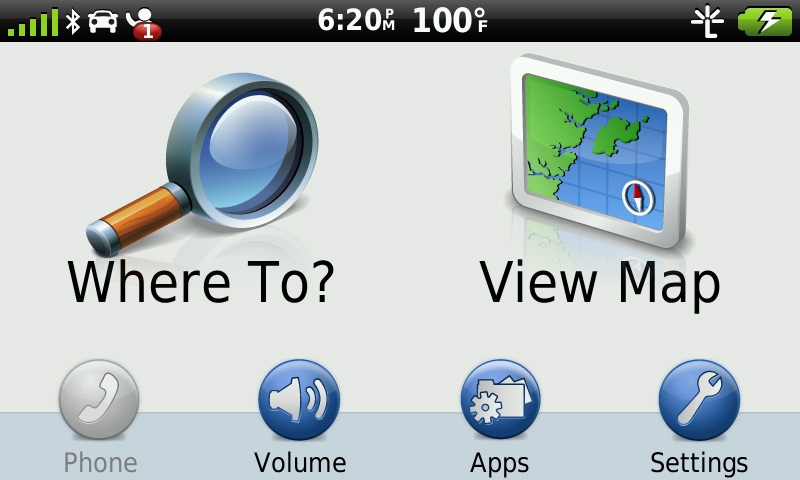 PhotoLive
This is a feature which can allow you to bring up real time traffic cameras on your unit, so you can see what is ahead. It is a $9.99 yearly fee, with unlimited use. However, you must live or travel in a state that has a transporation system which has the cameras available.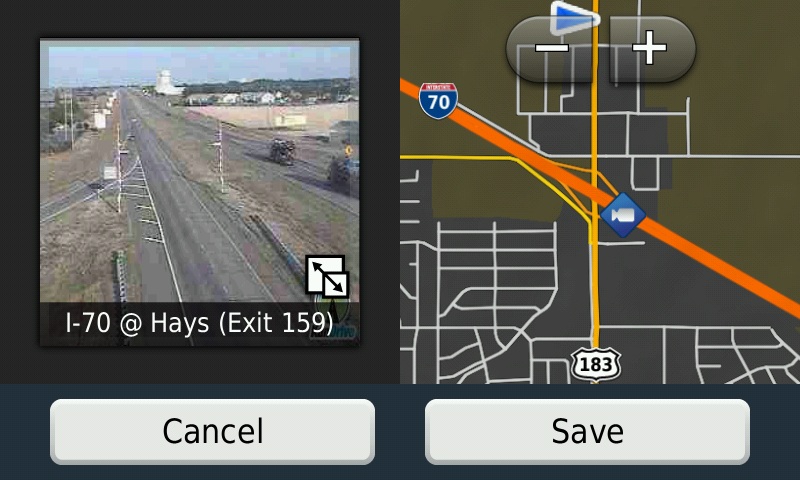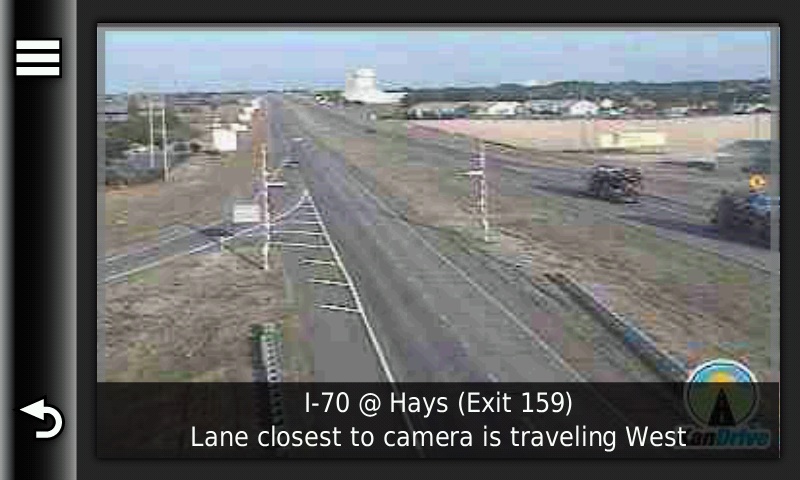 Weather


The weather feature gives you current temperature, humidity, barometer, etc via the nearest airport which provides weather data. You can also see weather radar, which shows you approaching storms, etc. You also get weather warnings, such as thunderstorms, flash floods, etc, as issued by the National Weather Service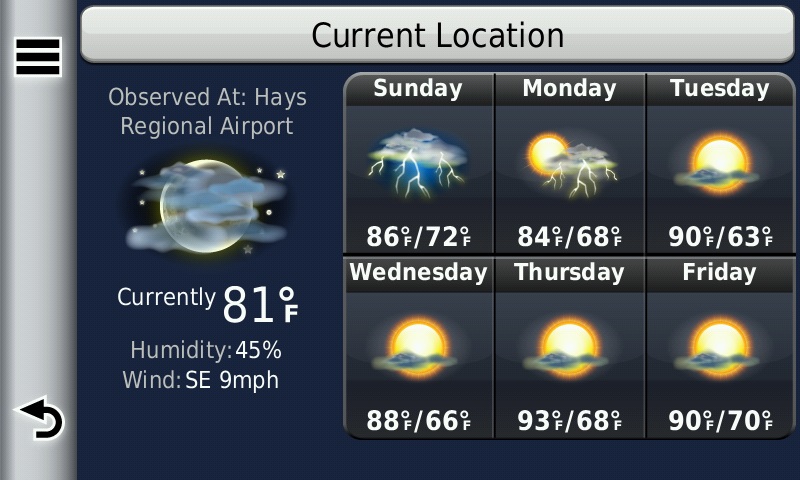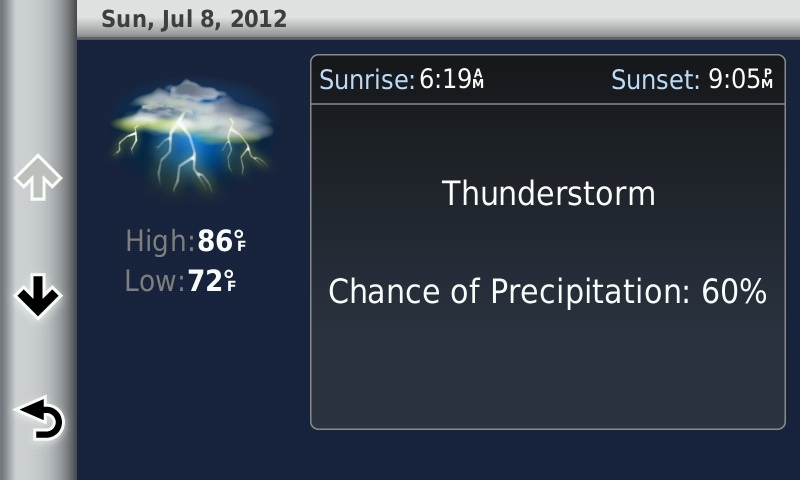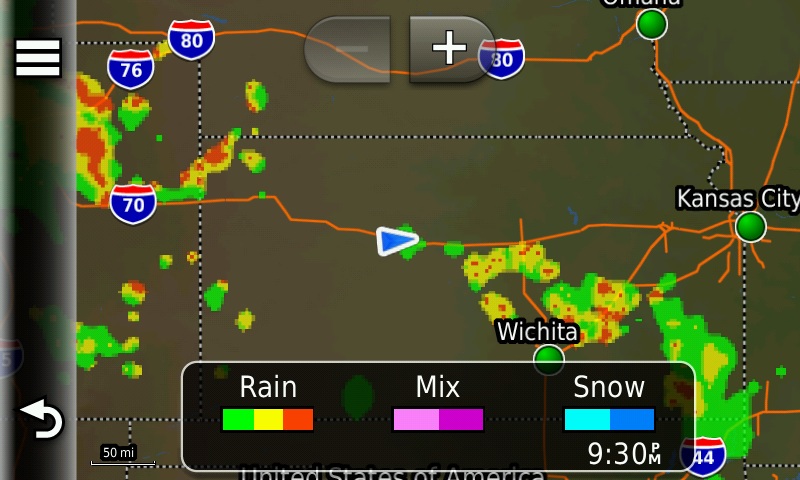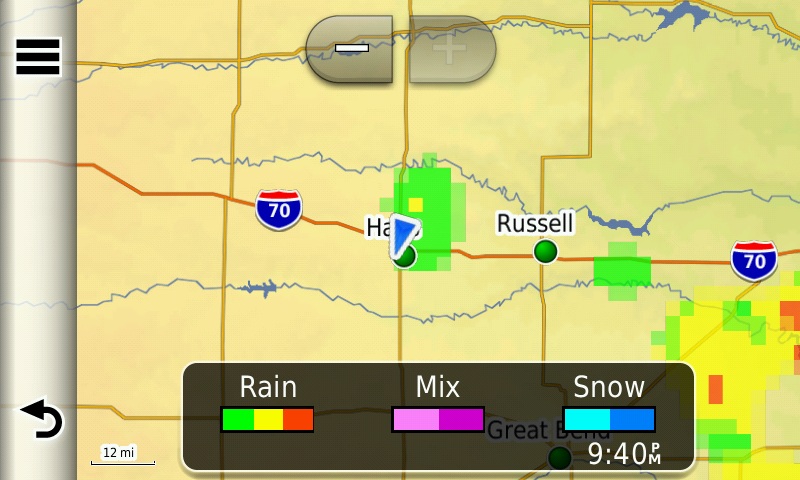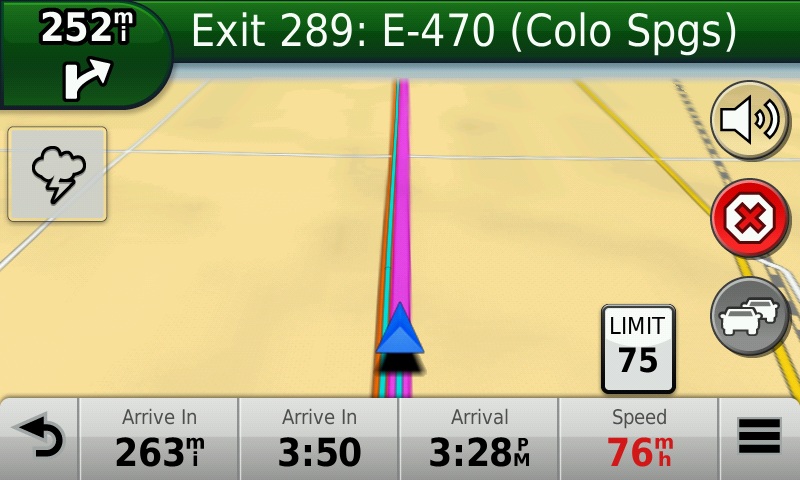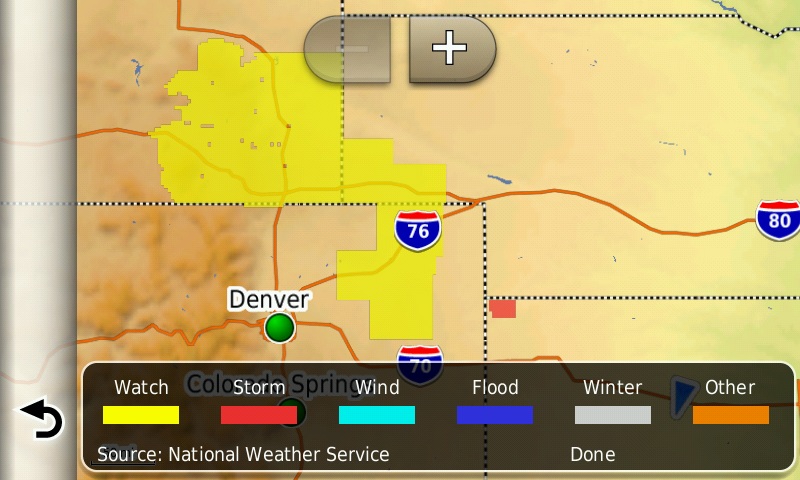 Gas Prices


If you want to be able to check the nearest gasoline prices, you can subscribe for $9.99 a year. This can show you the current price and also allow you to navigate to the station of your choice.



Live Traffic


This is a $19.99 a year subscription for traffic data, that is transmitted to your unit through the Smartphone Link. If you already have the LMT model with traffic via the power cable, you probably won't want this. According to Garmin.com

:
What benefits will I have purchasing the Garmin Smartphone Link Live Traffic services versus the Lifetime Traffic I already receive on my device?
Both services provide very similar traffic information from NAVTEQ. The main difference is the delivery method. Traffic received through a Garmin traffic receiver is received through an FM radio broadcast while Smartphone Link traffic comes through the phone's data connection. In some cases you will likely expand the coverage area using the Live Traffic service through Garmin Live Services.
Initially there were issues with the Smartphone Link traffic not working well with the free HD traffic that apparently have been worked out. I didn't buy this subscription, but I have had good experience with the HD traffic, which is discussed below.



Garmin Tracker


This allows you to post your current location and a brief message to others via email, Facebook or Twitter. You can also track other users of similar Garmin units with the Smartphone link, to see their location. One disappointment for me, is that it does not allow you to track anyone with Garmin's GTU 10, which I have two of-- This can only be done through your myGarmin account or through the free Garmin Tracker app. The information is specific of your location, even your speed, so be advised you are giving out a lot of data, especially via social media. I would hope Garmin would provide support for the standalone GTU models to be tracked on the 3590 in the future.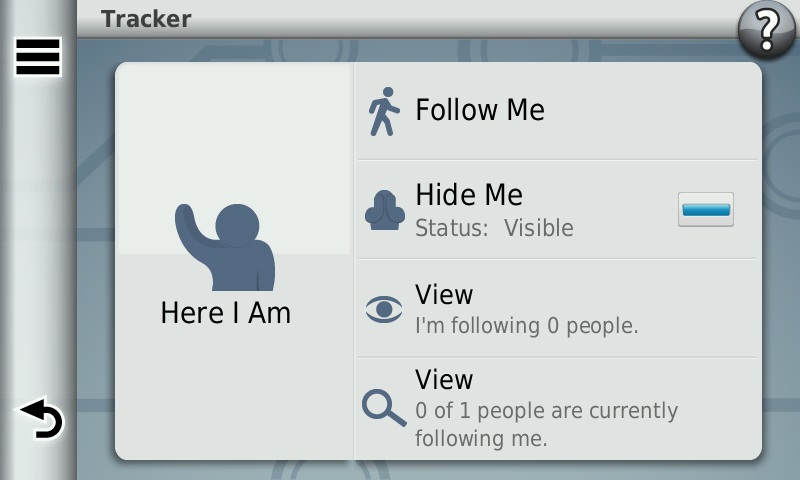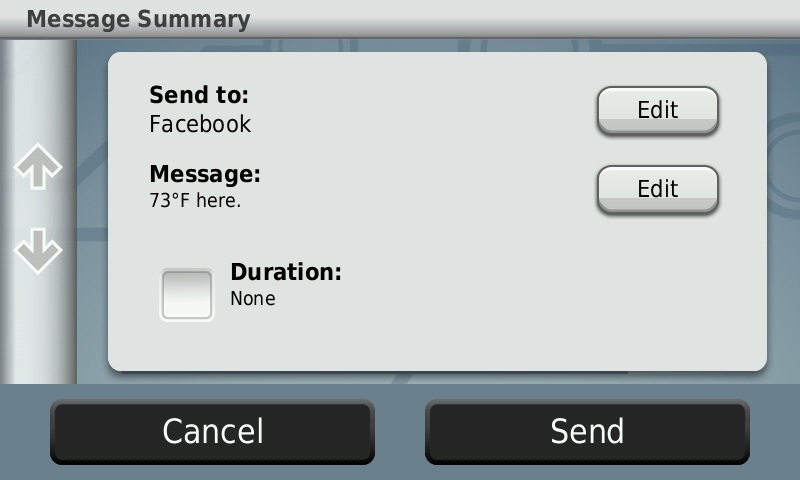 HD Traffic


If your 3590 is a model with a T, (i.e. 3590T) then you get free traffic updates. The traffic is now delivered via HD Radio broadcasts and it is ad free. The traffic updates much more frequently and from what I have seen is more accurate. This of course depends on where you live (metro areas only) and the type of traffic data from the local transporation agency, where NAVTEQ the traffic provider gets the data. The data is downloaded through the power cord and must be connected to the power cable, to get the data. (No pedestrian use) I have found that leaving my cable constantly powered, allows me to get the updated traffic, as soon as I place my 3590 into the mount. If you don't use the T model or the 3550 with no Bluetooth, you can still get the traffic via the Smartphone Link, but this requires the $19.99 yearly subscription.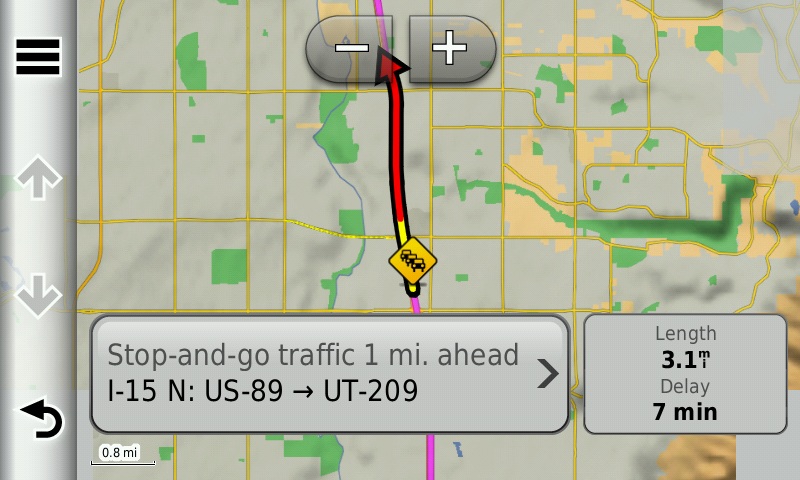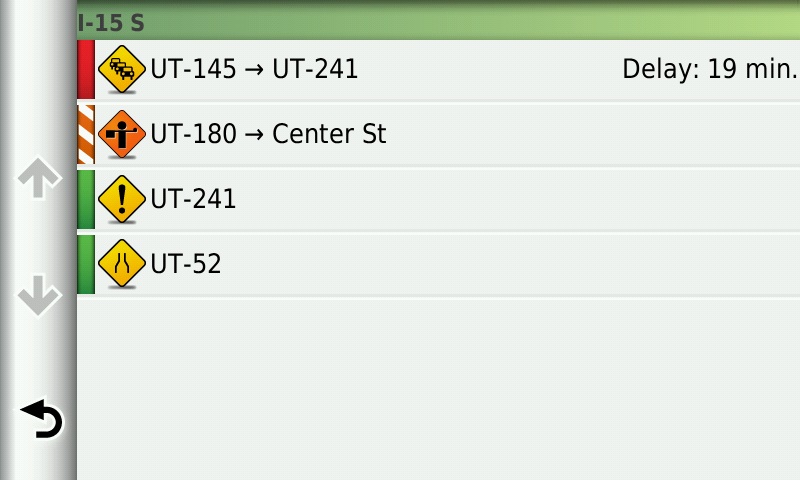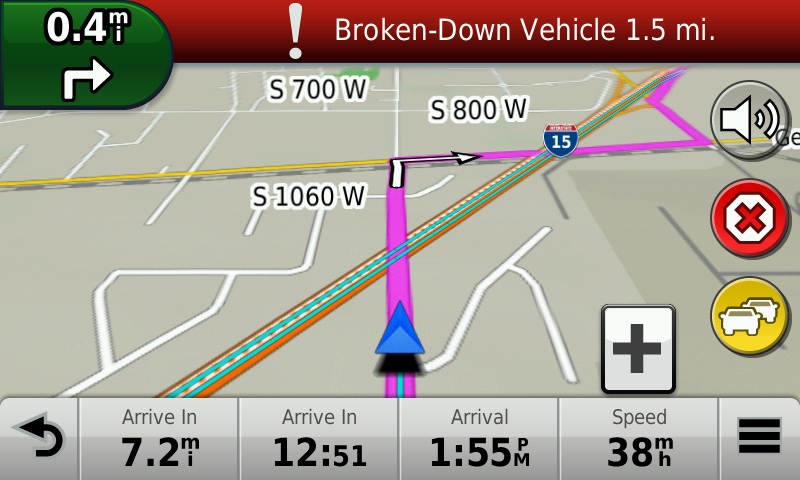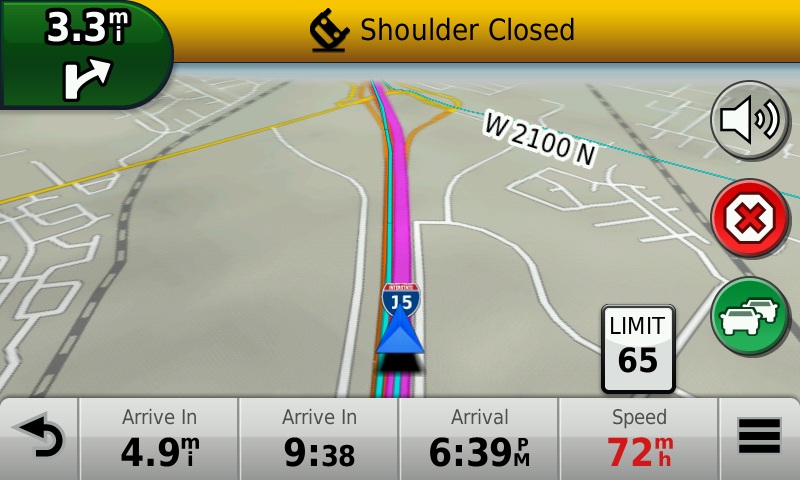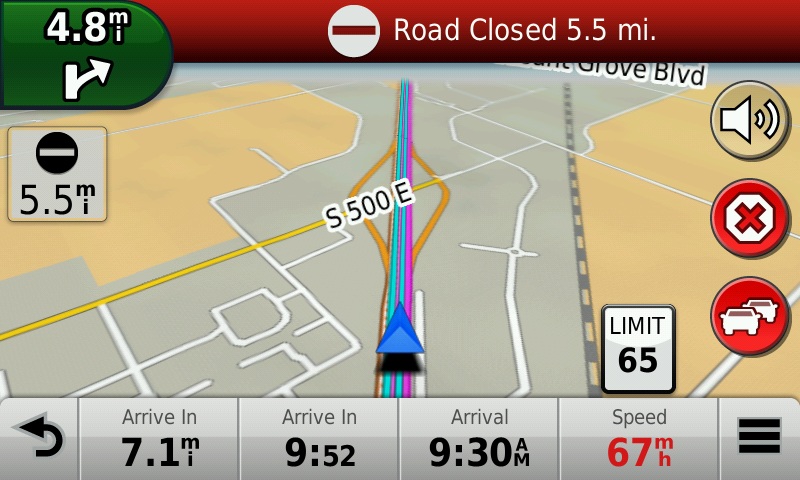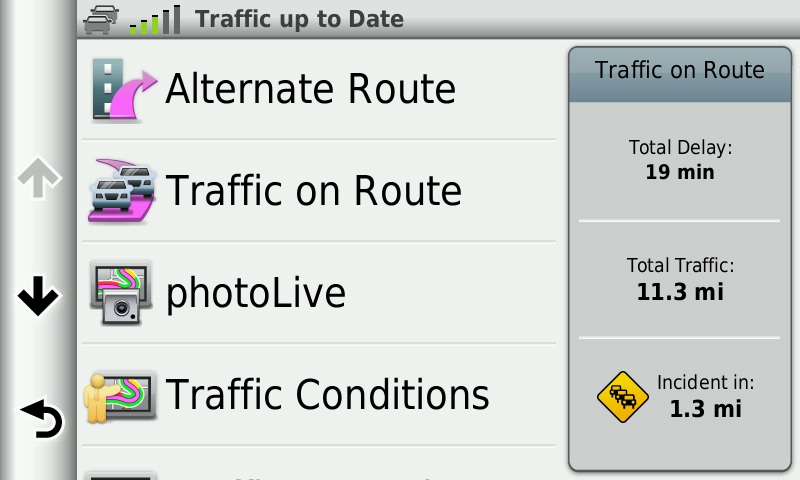 Junction View and Lane Assist


These are two very nice navigation features which have been available in Garmin units for the past year or so. The new models also add 3-D view, for complicated interchanges. Lane assist will come up when you are about two miles away from making an exit, or needing to get into a new lane where there is a freeway junction. In the upper left hand corner you will see several arrows. The ones which are highlighted are the lanes you need to be in. I have found these to be accurate and very helpful, especially in heavy traffic. Lane assist is available in all areas. Junction view brings up an image to show you what your upcoming turn looks like. This is very nice, but not available in all areas, only high traffic areas in major cities. But if you are in unfamiliar territory, it will be a welcome feature to help you easily get through. Below are screen shots.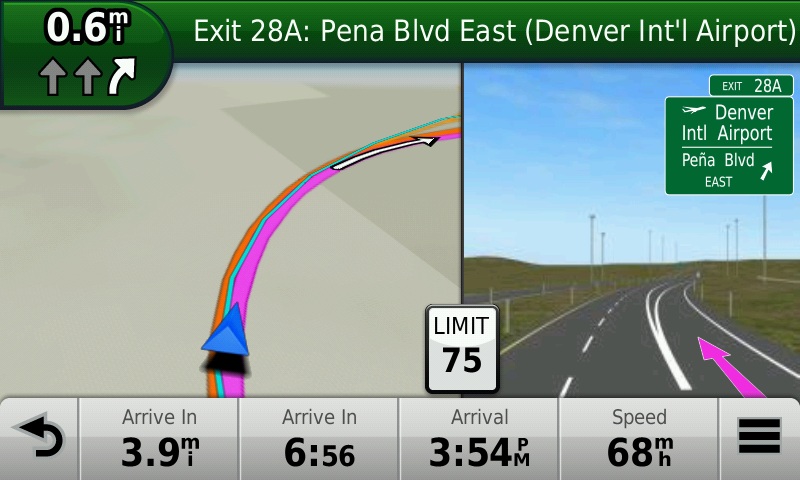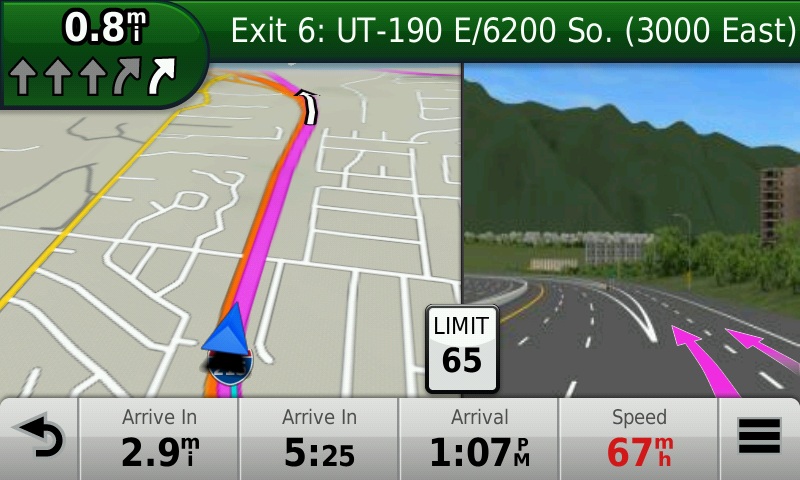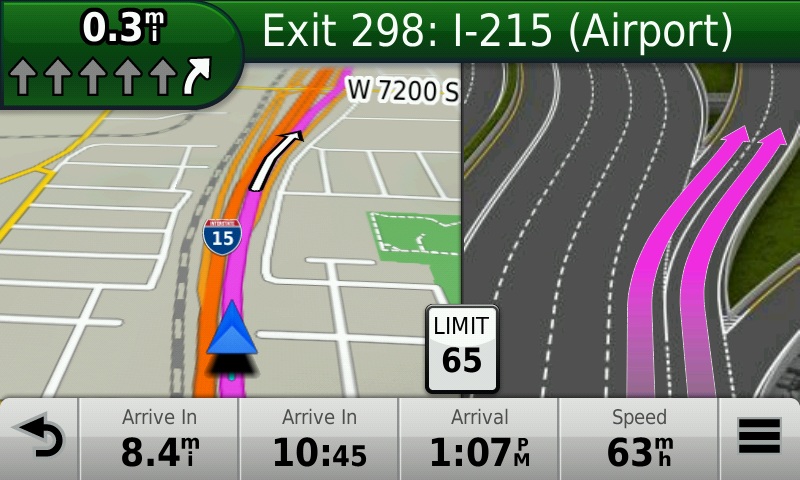 Voice Commands


The voice command feature in the 3590 is a HUGE improvement from the 3790. First, there is the ability to speak a "Saved Place" or waypoint, which is great. You can also just speak the name of a business and it will search for it. You speak an entire address at once and the unit has done a good job of accurately recognizing what I am speaking. This is very helpful in traffic, as you can navigate to a location without ever taking your hand off the wheel.
You can also adjust the volume, in addition to the searching options shown below. You can customize a "wake up phrase" so the unit will ask you for a command. The default is "Voice Command"




Points of Interest


The nuvi 3590 is loaded with 6 million points of interest, lodging, restaurants, stores, etc. There is a new interface for searching which I like better. Screenshot examples below.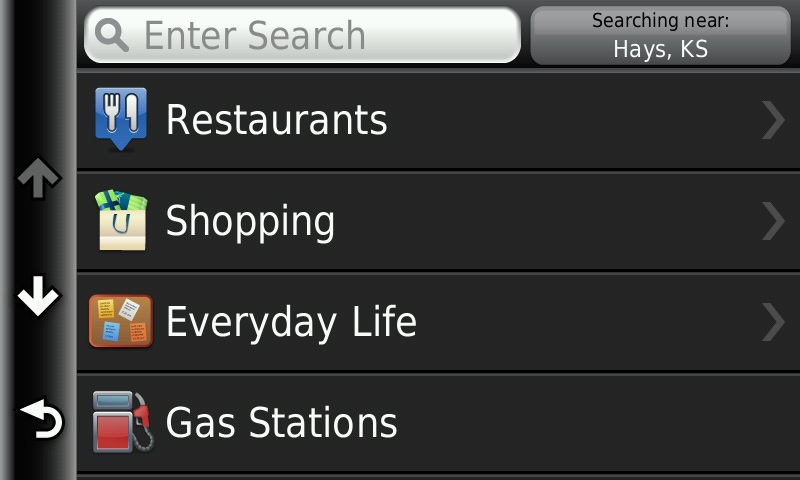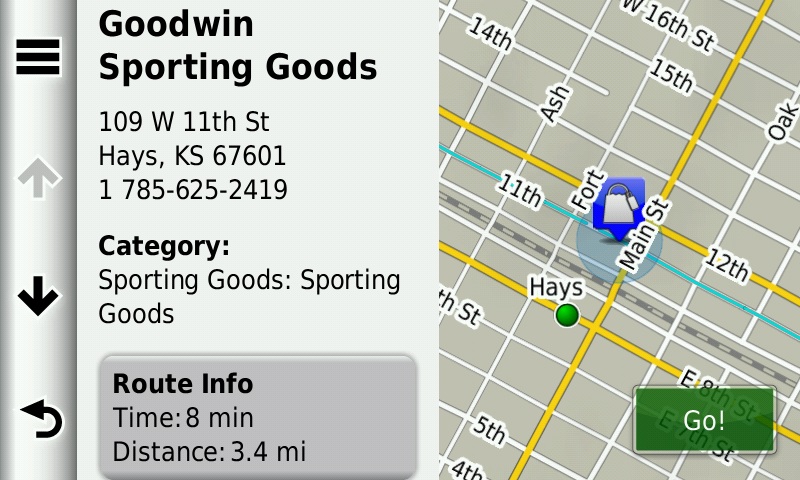 myTrends
According to G

armin:
"With myTrends, when you save your regular destinations in your "Favorites," your nüvi 3590 will, over time, begin to figure out where you're going even without your telling it! It provides time of arrival and relevant traffic information. So whether you're driving to and from work or a regularly scheduled weekly event, your nüvi 3590 will help you get there on time."
From my experience, it will predict the time of day when you go home or to work and provide a couple of route options for you and show you which routes have traffic impacts ahead.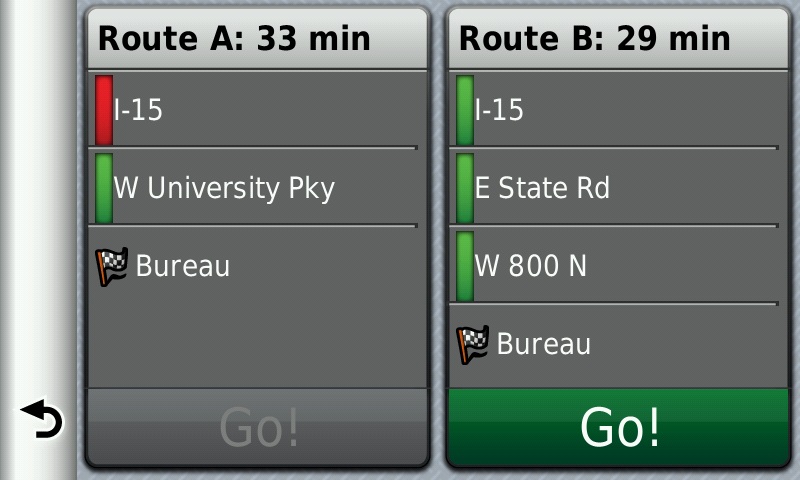 trafficTrends


This is a feature that is included with the map data. It seems to calculate a historical speed for the road and use that in factoring the route. I have noticed it adds about four minutes to my typical 15 minute commute. You can switch this feature off in the map settings and it will calculate a time I have seen in previous units. I do find it helpful to have this factored in the route, because I know it's a good average of when I will get there. This feature only works on freeways and major highways as near as I can see. If you do have this feature enabled, Garmin will anonymously upload your tracklog data, to help in calculating these traffic trends. It will collect the information, when you connect your unit to your myGarmin account. You can restrict this data from being uploaded, by adjusting settings in your myGarmin account.
Here's Garmin's take on trafficTrends:
With trafficTrends, your nüvi automatically learns daytime trends for traffic flow to improve your routes and better predict your estimated time of arrival based on time of day and day of week.



Additional Features





Shortcuts


You can add a specific waypoint or category you like to search, that is accessible through pressing just one icon. You can customize this and add several pages of shortcuts. I have my office along with the cities option on the main page.



Map Layers


This is a simplified way to change what you see or don't see on the map page. Traffic delays, trip log, POI icons, 3-D buildings or 3-D terrain are all determined by the user. You can access this right on the map page (left side)



Where I've Been


This keeps track of recent locations you have been routed to, showing date and time and the location on a map. It is more than just the trip log, which shows your location, but does provide some data about when you were there. You can also clear this data, if you don't want someone checking where you have been.



Last Spot


This is where the unit was last pulled from the mount, to allow you to return to the location where you parked.



EcoRoute


This has been a feature in the nuvi line for awhile, allowing you to keep track of your gas mileage, etc. For another $99 Garmin now sells EcoRoute HD which allows you to plug a device into your car's diagnostic port and get real time data on your car's performance, etc. You can read more from Garmin here.



Other Features


The units also has previous non-navigation features including an Alarm Clock, Calculator, World Clock, Language Guide, Unit Converter, Picture Viewer, and Audible Book Player.



Trip Planner


This feature has been around in previous models, but easily allows you to build a route along the way and optimize the stops to shorten the miles driven.



Help Option


If you have a question about the unit, you can access basic information on the feature, in the built in help section. This is a great feature that really helps when you first get the unit.



Other Improvements


The map screen now includes a mute button, for one touch muting of voice, which is helpful when you need it to be quiet. Previously it would be several steps to mute the speaker. There is also a Stop Route button, to stop navigating also with one touch on the map page. The unit will go to sleep by pressing the power button. It will wake up if you put it in the mount. It appears to use very little battery while in the sleep mode-- I use mine too often to know how long it holds a charge but believe it is several days in sleep mode.



Dashboards


You can change the layout of the data on the unit, through a few different dashboards preloaded in the unit. You can also add novelty dashboards, such as Star Wars or Sesame Street themes. These are free and can be downloaded from this link.

Lifetime Maps

The 3590 LMT comes with preloaded street maps of the USA, Canada AND Mexico.
If you bought the 3590 LMT, it means you get lifetime map updates, which are suppose to be released every 3-4 months. Don't be confused, this isn't for your lifetime or using a Garmin GPS, it is the life of the specific unit. If you didn't get the LMT version, you can buy a lifetime map update license for $90. These lifetime map updates however, have come down to what I now consider a reasonable price, after paying more than $100 for just one update in the past.
However, you are entitled to one free update, as long as you download the update with 60 days of first use.
Connect your unit to your computer and register it at garmin.com to be taken through the map update process. It is very easy now to do.



Pedestrian Use


The newer Garmin units including the 3590 work well for walking or taking public transit in a big city. The unit will automatically switch between a portrait or landscape view, depending on how you hold the unit. The pedestrian mode can easily be switched in the upper left hand corner of the Where To page. Switching to pedestrian will keep it from routing you on freeways, highways, etc. You can then get a route, distance, time, etc. Overall it is a very nice feature for getting around in an unfamiliar city on foot.
You have to purchase the City Xplorer maps if you want help using subways, public transit, etc. Each city runs you about $10. But if you are walking to your destination, the preloaded maps will help you get around just fine. The 3590 has approximately a 3-4 hour battery life during handheld use.
Speed Limits
The 3590 allows you to adjust the included posted speed limits on the map page. This change is kept in the unit's memory. You will get a red indicator, if your current speed exceeds the posted limit. While for the most part these limits are accurate, be advised some are wrong and so it is best to verify with the actual speed limit signs posted, as you travel. The speed limit now also shows up on the Junction View page, which is a nice improvement.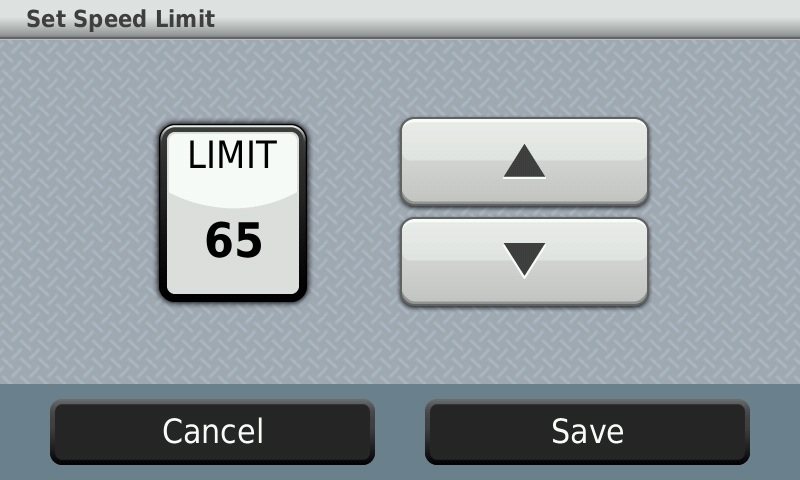 Connecting to Computer


The unit is not recognized as a Mass Storage Device like previous nuvis, but is a portable media device.



Touchscreen


The 3590 touchscreen looks good and has a bright, shiny look. It includes what Garmin calls a multi touch interface. You can easily zoom in, out, etc, by using two fingers. Garmin has produced a good demonstration of these features, which you can watch on You Tube by clicking here. Overall, the resolution on the touchscreen looks beautiful, compared to the economy models, such as the nuvi 30, 40, 50 models.



Help


I have seen the help option in the last few Garmin nuvi's. Garmin deserves some praise for this. You can access many answers to common questions you may have about the unit as you need a question answered. It is just as good as a paper manual and is actually quite helpful, not only to learn about your unit, but anytime you have a question. The help section includes several categories and sub categories.



Glitches, Bugs, etc.



The 3590 in my use over the past three months and about 4500 miles, appears to be free of glitches and bugs. Software updates continue to make improvements. However, I did suffer a catastrophic incident with the 3590 related to the Smartphone link. While using the radar feature in the subscription Weather option, I attempted to animate the radar, which is an option. The unit shutdown and then attempted to restart for hours on end. In the past with all of the other Garmin units, I have been able to reset, restart, reload, etc and get it to work myself. In this case, it would not work. I had to send it back to Garmin. They did give me the typical great customer service and I had a new unit back to me, one week after sending the original to Garmin. We have made them aware of this issue and one software update showed the only change was "improved software stability." I have not been brave enough to try to animate the radar as of this writing, but we suggest you do not try animating the radar until we get better confirmation this serious issue is fixed. Other than a few random restarts in my use, I have not encountered any other issues with the 3590. I have had a few Favorites or Waypoints seem to disappear from my unit. I have not been able to determine the reason for this.



Satellite Page


A Satellite Page is available in the 3590. You can access it by holding the signal strength meter in the upper left hand corner of the main menu, but it takes some effort usually before it appears.


Trip Computer


The Trip Computer has two separate trip odometers that can easily be reset. It also has a second page of data available. You cannot customize any of this data however, which is a disappointment.



Pros


Great touchscreen visibility
Improved map browsing options
Offers several features from previous nuvi units, (custom avoidance, etc)
Improved voice command capability
Improved Traffic data
Smartphone Link capable
More flexibility in customizing options



Cons


Smartphone Link app not compatible with iPhone, only Android
Unit can be difficult to secure into mount (Has a nice release button though)
Cannot turn off the beep when you touch the screen
No GTU tracking ability
Requires a 4GB microSD card for map updates, as of 2013.20-- due to expanded junction view files
Waypoints don't always show up on map-- inconsistencies with what is shown, depending on map scale
Satellite page is difficult to access-- pressing signal strength meter in upper left hand corner can take time to activate and is inconsistent
Carrying case is not included in package, but can be purchased for $20. It does help to protect your unit from scratches.


Summary



The 3590 is a good GPS navigator and as of this writing is the top of the line Garmin unit. It brings back features phased out in the past. The Smartphone Link is a needed feature, especially in this day and age of smartphones that can navigate for you. I still prefer a standalone GPS instead of my phone, but appreciate the options for extra data. The screen is very nice to look at, the traffic is better and the voice command option is very good. Again, the 3590 is the top of the line unit and you will have to pay more $ for it, but if you are serious about getting around, you won't be disappointed. To see the official product page click here. Here is a direct link to the online owner's manual.

Questions/Comments: Visit the gpsinformation.net
Forum
Return to:
gpsinformation.net