Garmin's TOPO U.S. 24K Maps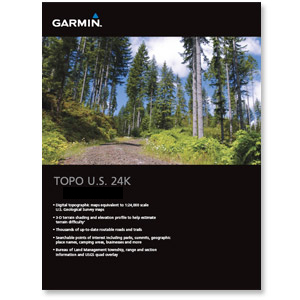 Topographic Maps with Terrain Shading


on Pre-Programmed microSD or SD Memory Cards


September 18, 2008

By: Sam Penrod
Return to GPS Information Home Page
Overview


Garmin has begun a map project of the United States creating 24K high resolution maps. The project is moving from the west coast of the U.S. toward the east coast and so far involves two states at a time being released. The maps are only available on SD and microSD cards and cannot be viewed on a computer. Overall these maps bring a major improvement to what TOPO maps have been available for Garmin GPS receivers and add autorouting features and improved terrain shading, as well as better accuracy. They are selling for $99 per card (only two states included.) Check discount prices here. The first map card was released in July 2008, for Washington/Oregon, followed by California/Nevada and Utah/Colorado. More cards featuring a two state combination are expected to be released about every two months until there is full coverage of the USA. What Garmin is not advertising, is that these cards are a hybrid of detailed TOPO maps, but also have Navteq City Navigator data with autorouting capabilities. What it means is that this TOPO card will work the same as City Navigator maps for autorouting. The cards are copyright protected with an unlock code, but can be transferred between any compatible Garmin unit, without having to register the card to a specific unit. The biggest disadvantage to this, is that you cannot view these maps on a computer, only on a compatible Garmin GPS. While the map cards will work in any Garmin unit capable of using a microSD or SD card, the terrain shading feature makes these maps most effective, when used on the Garmin Oregon or Colorado series.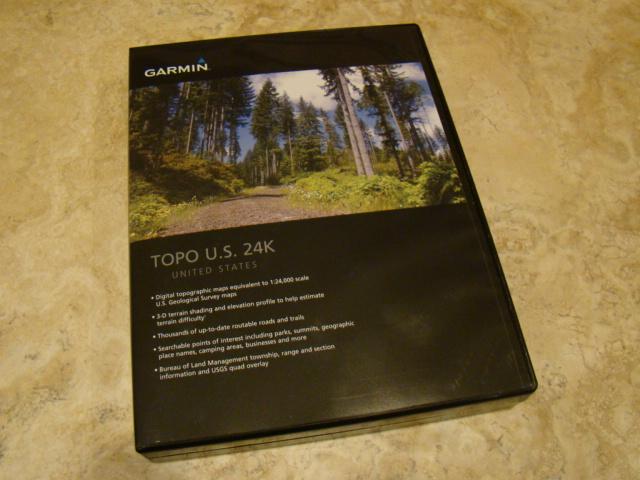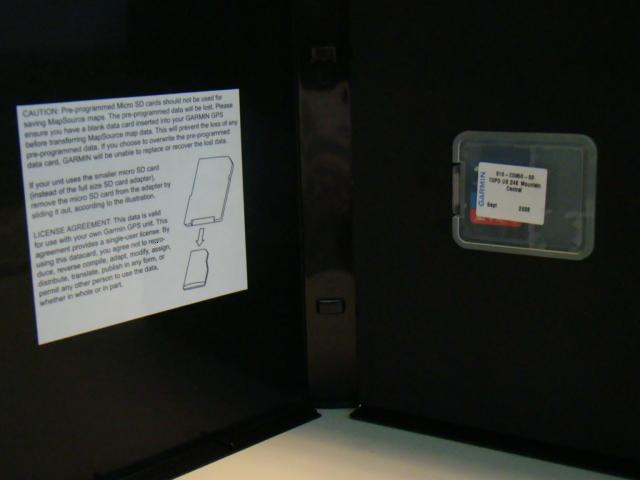 The memory card is a San Disk brand and is a 2GB microSD. It comes with an SD adapter and a brief instruction. There is no manual or anything else included. My version is the Mountain Central card and its map file is 1.4 GB, leaving about 600 MB for storing digital photos or .gpx tracklogs on the 60CSx or eTrex HCx series. (The map file is in a folder called GARMIN and there is a small unlock file and the gmapsupp.img file) You cannot put another mapset on the card, in fact, if you try to send additional maps to the card, it will erase your 24K mapset for good. We strongly suggest you send no maps to your GPS unit's internal memory, without first removing the memory card as a precaution. The maps provide contour lines at both 20 foot and 40 foot intervals, depending on the terrain.

Here are the features of these cards, according to Garmin.com

Topo 24K coverage
Points of interest with thematic icons: parks, campgrounds, boat ramps, airports and others
3-D terrain shading on compatible units
Elevation profile of routes on compatible units, so you can estimate terrain difficulty
Routable roads and trails
Searchable points of interest including visitor's centers, camping and picnic areas, wilderness campsites, and more
Detailed hydrographic features, including wetlands
National, state and local parks, forests and recreational areas including conservation areas
BLM Township and Range Section overlay; USGS quad name overlay
The Garmin U.S. TOPO 2008 product offers terrain shading and 100K maps, but our experience has been that roads, trails, and streams can be as far off as 300-400 feet. These new 24K maps, offer much better accuracy, more detailed terrain shading and more contour lines. The images below offer a comparison of TOPO US 24 K vs. US TOPO 2008. The screen images are from a Garmin Oregon 400t, unless noted, are at the same location with identical map scale. Note better stream coverage with 24K maps, as well as roads and trails.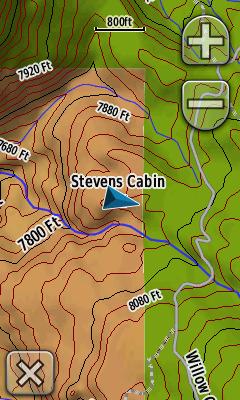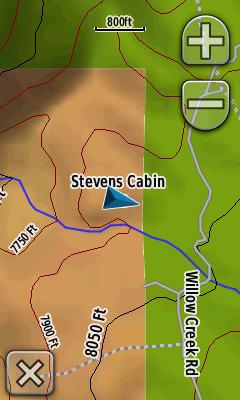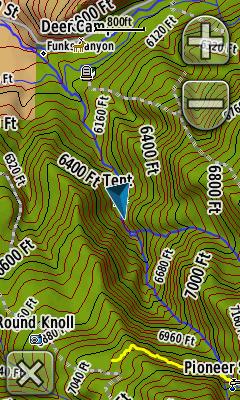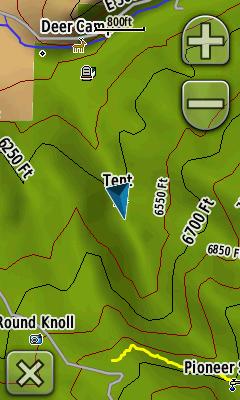 TOPO US 24K US TOPO 2008 (100K) TOPO US 24K US TOPO 2008 (100K)

Images below are on the state border. The Top half shows US TOPO 2008 (100K) and the bottom half shows US TOPO 24K. Note better detail with 24K maps.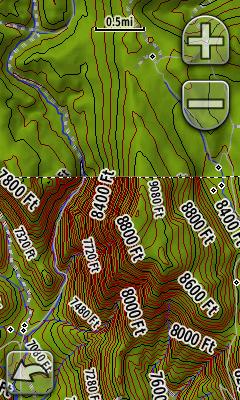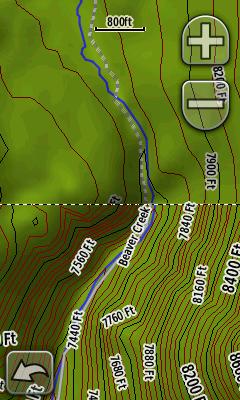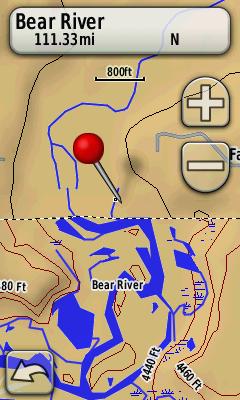 Images below show a screen grab from a Vista HCx, a 60CSx and an Oregon 400t. All the screen grabs are from the same TOPO US 24K maps at the exact same location, with the same map scale. Note no terrain shading on the HCx or 60CSx images.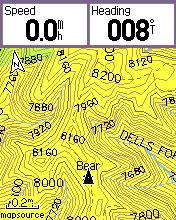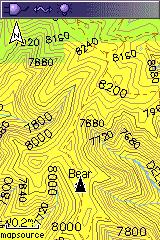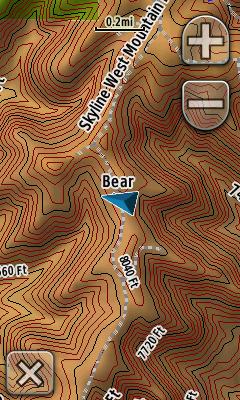 Vista HCx 60CSx Oregon 400t

While the map cards will work in the eTrex HCx units, the Rino HCx units and the 60Cx series, you can see the maps really shine in the Oregon and Colorado series.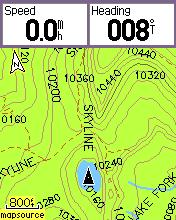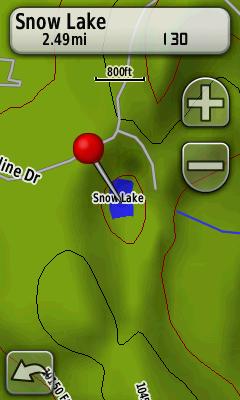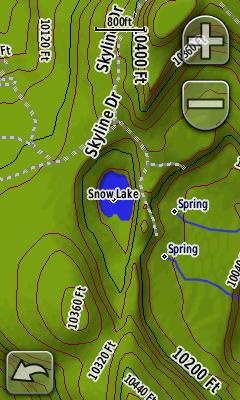 Vista HCx Oregon 400t with US TOPO 100K Oregon 400t with US TOPO 24K

The 24K maps will autoroute and give you turn by turn directions, not only in the backcountry, but streets and neighborhoods. Includes full Points of Interest file, including restaurants, hotels, shopping, hospitals, transportation, etc. You can also input street addresses and get turn by turn directions. Will provide both 2-D look with terrain shading or 3-D automotive mode. See screen examples below.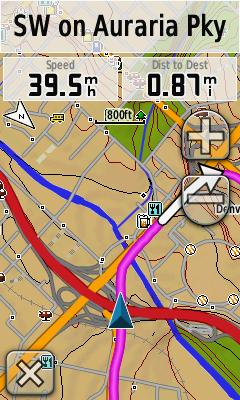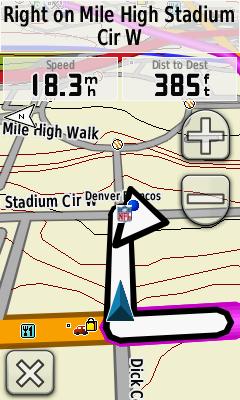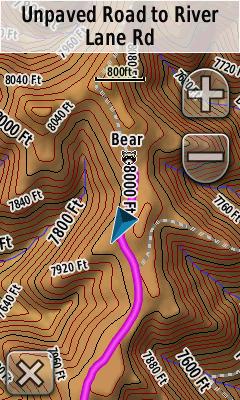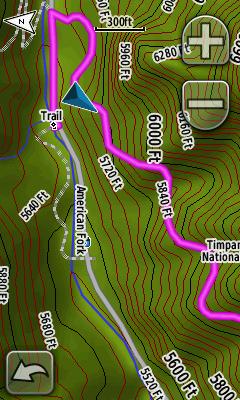 Freeway use in 2-D flat view, with Street use in 3-D auto view unpaved road in 2-D flat view hiking trail in 2-D flat view
terrain shading

Another benefit from the autorouting for trails, is that instead of getting a distance as a crow flies, you can get an actual hiking distance and in the HCx and 60Cx, it will offer an elevation profile, showing your elevation climb as well. So far this feature of elevation profile is not available in the Oregon or Colorado series. We can hope!

The maps will give you a listing of the USGS paper map coordinates, see map with red letters below, the T18 s corresponds with the screen shot.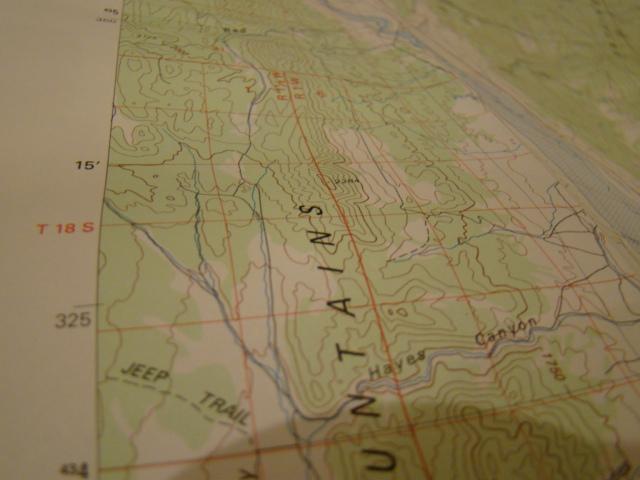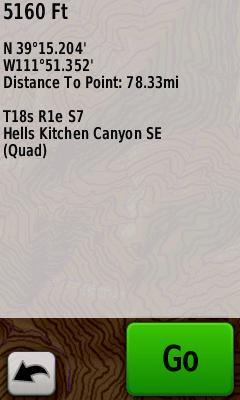 Here is a photo looking south of two hills and then a screen grab of the map of the same location. Note north arrow in upper left hand corner.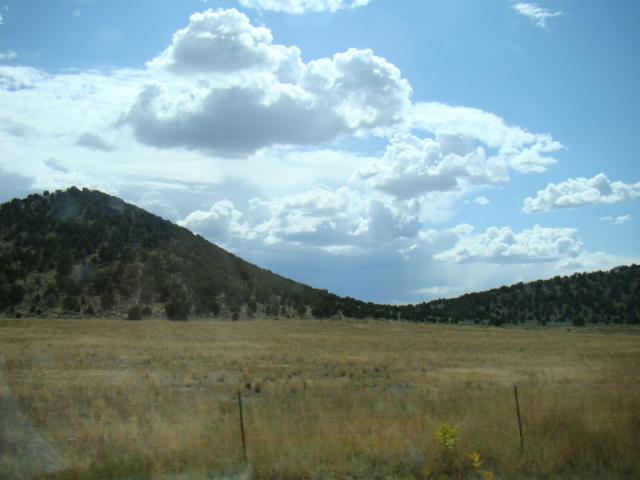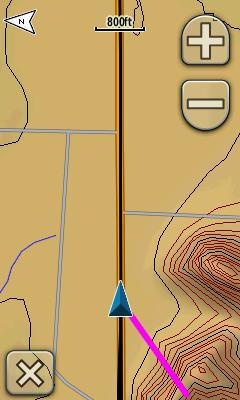 Alternative 24K maps


There is an alternative out there for 24K maps we have found, which you may want to consider as well. It is a project of creating 24K maps which are compatible for Garmin. So far there are a few western states available for download and we think it is worthwhile to make a donation for these mapsets. They load into Garmin's MapSource and can then be downloaded to a GPS. They do not offer any autorouting capabilities, but our experience has been that they have similar accuracy to the Garmin 24K maps. We have only seen a couple of issues with accuracy problems with these maps, and they appear to be a great alternative. They do not have as many trails or streams or rivers, but otherwise do provide good 24K contours. Better yet if you have a Oregon or Colorado with Garmin's US TOPO 2008 loaded, you can leave that product enabled and these alternative maps will overlay on top, giving you terrain shading too! Here are a couple of screen comparisons with the alternative map on the far right.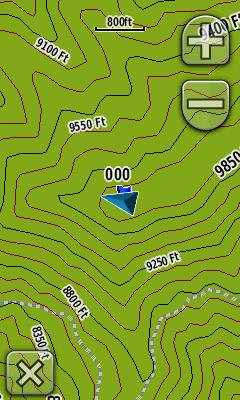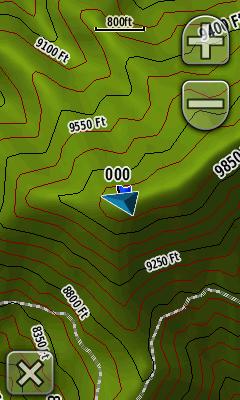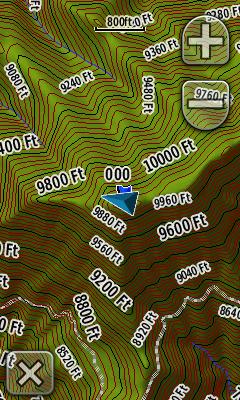 US TOPO 2008 100K no shading US TOPO 100K with shading TOPO US 24K Miscjunk.org 24K with shading from
US TOPO 2008 100K

Note the trail detail in 100k, improved trail detail and stream data in US 24K and no trail or stream in miscjunk.org map. It superimposes terrain shading from Garmin US TOPO 2008. You can find out more on these maps at www.miscjunk.org by clicking here.

Here is the a breakdown of the pros and cons of Garmin's TOPO US 24K as we see them:



PROS


The detail is much better than any other Garmin TOPO product we have seen so far
The availability of Navteq (City Navigator) road data is a real plus, including address search and autorouting capabilities
Terrain shading is more detailed than 100K product
Better water and trail data
Can easily switch cards between Garmin units and if you buy a new handheld, you don't have to buy new maps



CONS


Limited to two states at a time, you can't pick which two states you want. If you live in Oregon and also want California maps, you have to buy two separate cards.
No ability to view maps and plan routes on a computer
There can be too many contour lines in steep terrain which can make the map difficult to view
No raster (aerial photo) imaging available
Currently you can't preview these maps with Garmin's Map Viewer, before purchasing
Not as many geographic POI locations as US TOPO 2008. However, keeping the US TOPO 2008 product enabled, will supplement the 24K maps with more geographic POI's
The price is high for just two states of coverage



Other Observations



While these maps do support autrouting, we should warn everyone that while you may get a route showing you to a destination, it doesn't mean you can drive a car there. Some roads on the map indicate a solid gray line, but these roads can be dirt and in some instances, a 4X4 vehicle may not be able to travel on it. Some dotted line trails may also not even support an ATV and are only for hiking. You must also change your routing in the GPS setup from off road to on road, for either distance or time, to get autorouting. Also remember you can set in the routing of your GPS preferences, whether you want the unit to calculate routes for a car/motorcycle, a bicycle or pedestrian. So make sure which type of route you want calculated, is set in the routing preferences. There have been several cases lately of tourists who are following their GPS unit's directions right into the middle of nowhere, just because the unit says 'turn here.' We suggest everyone carefully consider where they are being routed.

These maps seem to have more streams shown, but it doesn't mean they actually have water. We have found many streams shown on the map, are actually dry creek beds.

The higher detail maps will take longer to draw on the map page of the GPS. Different map scales appears to handle it differently, so you can experiment to see which scale is faster and which is slower in your particular unit.

Garmin's National Park's 24K series is a similar product, however these new maps may be better, since they are not limited to areas in and around national parks.

Summary

These 24K maps are the best TOPO maps for general coverage we have seen from Garmin yet. They appear to be much more accurate and have improved terrain shading. Hopefully when all of the United States is released, Garmin will sell a DVD of these maps for use on a computer as well. Until then, the maps are limited to GPS use only. The price is steep for two states, especially if you travel frequently. But if most of your outdoor adventures are close to home, you will benefit from these maps. Remember you can accidentally erase these maps from the memory card, so be careful when plugging your GPS into the computer and using MapSource. Check Garmin's official product page here, to see which states are currently available.

Questions/Comments: Visit the gpsinformation.net
Forum
Return to:
gpsinformation.net