Columbia and Snake Rivers Cruise with Cruise West
Day 7, Thursday, Visit the Astoria Maritime Museum, Astoria Column, and Lewis and Clark's reconstructed Fort Clatsop
Click on the Thumbnails Below for Larger Views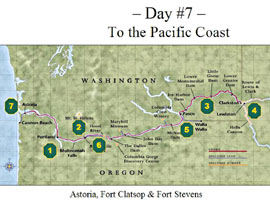 .....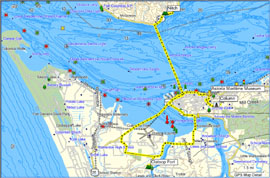 Bus trip from Astoria to the Nitch (where Lewis and Clark waited for better weather) , the Astoria Column, and Fort Clatsop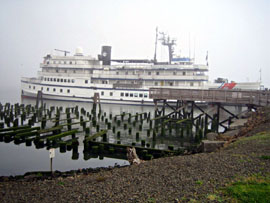 .....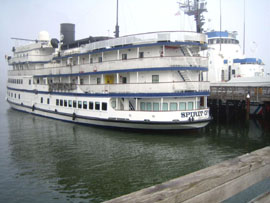 .....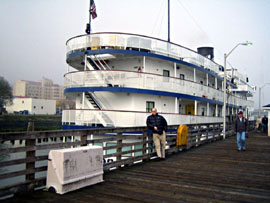 Our ship arrives in Astoria on a very foggy morning

Fort Clatsop Reconstruction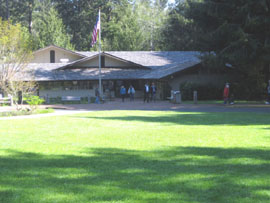 Visitor's Center ° Lewis and Clark wintered here in 1805-1906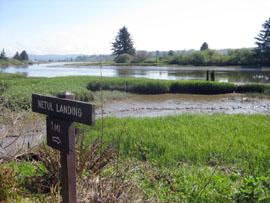 .....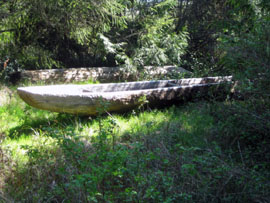 .....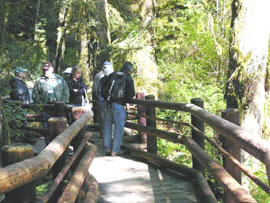 The explorers' dugout canoes landing point on the Nutul River (south of the Columbia)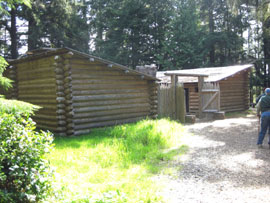 .....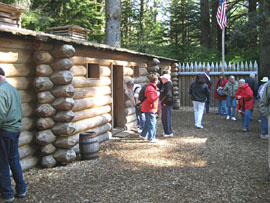 .....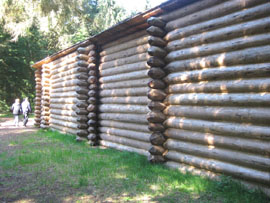 Fort Clatsop was fully enclosed for defense from unknown indians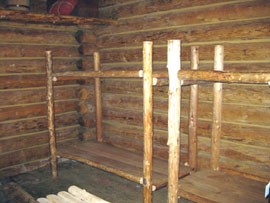 .....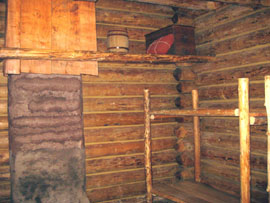 .....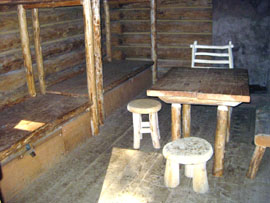 The cabin 'amenities' seem quite 'comfortable'

The Columbia River Maritime Museum is right on the dock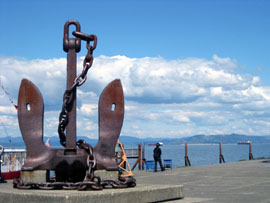 .....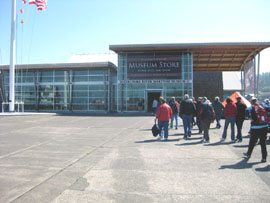 .....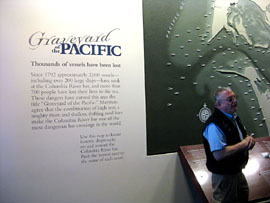 The plaque on the wall shows the need of a very robust Coast Guard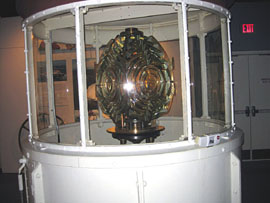 .....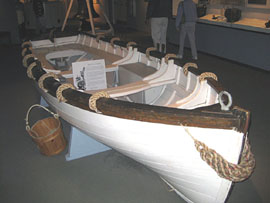 .....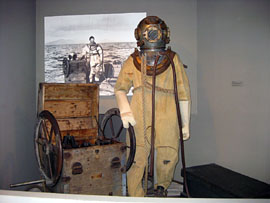 Frisnel lens for a working lighthouse light ° Coast Guard rescue boat ° Early diving equipment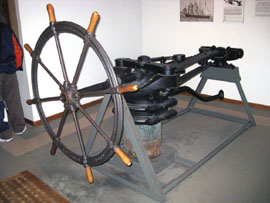 .....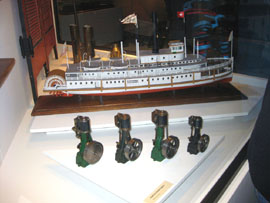 Mechanical steering device of an early sailing vessel ° Model of sternwheeler ship and auxiliary steam engines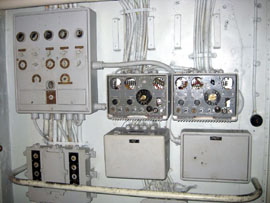 .....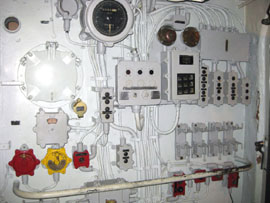 .....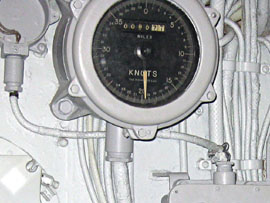 A destroyer's complete bridge is assembled in the museum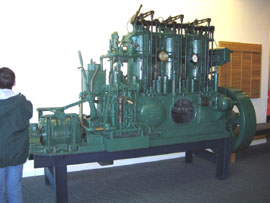 .....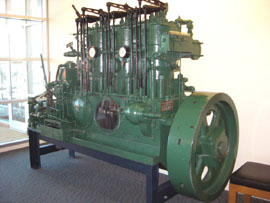 .....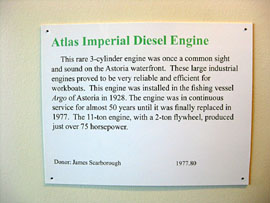 Early ship's three-cylinder diesel only generated 75 horsepower

The Astoria Column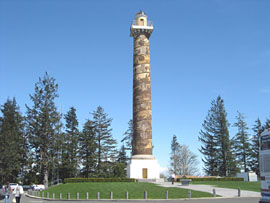 .....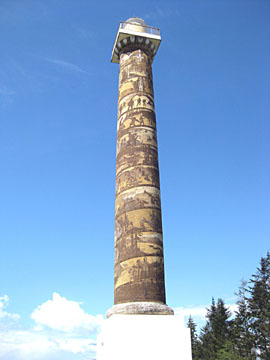 .....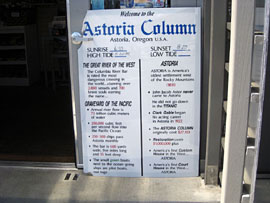 Murals of the history of Astoria spiral up from the bottom

Text Panels from the Astoria Column, from bottom to top:
BEFORE THE WHITE MAN CAME
ROBERT GRAY IN THE SHIP COLUMBIA IN THE GREAT RIVER OF THE WEST MAY 11, 1792
GRAY FINDS AN INDIAN VILLAGE ON THE BANK OF THE RIVER
LT. BROUGHTON NAMES MT. HOOD OCT. 1792
THE LEWIS AND CLARK EXPEDITION CROSSING THE MOUNTAINS
INDIANS GREET THE EXPLORERS
LEWIS AND CLARK REACH THE PACIFIC
THEY OBTAIN SALT BY BOILING SEA WATER
FORT CLATSOP ESTABLISHED DECEMBER 1805
FORT CLATSOP IS COMPLETED
INDIAN FISHING AND BOATBUILDING INDUSTRY
ASTOR OVERLAND PARTY LEAVING ST. LOUIS
TONQUIN SAILS FROM NEW YORK SEPTEMBER 8,1810
TONQUIN ARRIVES AT MOUTH OF COLUMBIA SPRING OF 1811
GVERLANDZRS CROSS THE DIVIDE LED BY WILSON PRICE HUNT
DESTRUCTION OF THE TONQUIN SUMMER OF 1811
FIRST OVERLAND ASTORIANS ARRIVE
ARRIVAL OF THE LOST OVERLANDERS
TRANSFER OF ASTORIA TO THE NORTHWEST COMPANY OCT. 1812
U.S. SHIP ONTARIO FLYING AMERICAN FLAG 1818
COMING Of THE P!ONEERS-1837-48
THE RAILWAY ARRIVES 1893



Panorama of the Columbia River to the sea from the Column hilltop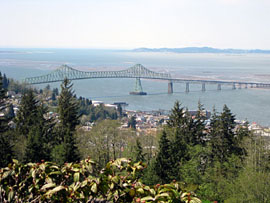 .....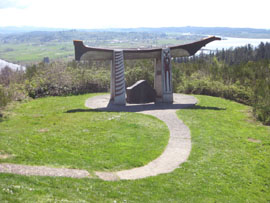 .....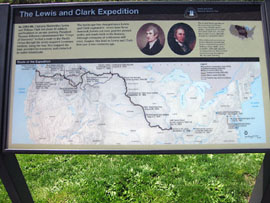 Other views from the top
Departing Astoria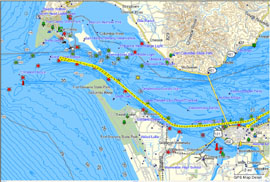 Captain Kay took us out the Columbia River channel to show us how rough the river near the ocean could get.
However, the water was calmer than any he could recently remember!
Thus we returned to Portland where we bid adieu to all for a wonderful one-week trip.