Garmin StreetPilot c550 -Auto Routing, Traffic Info, MP3, Hands-free Phone, GPS
For specific questions about this product, log onto the GPSInformation.net FORUM
Return to Home Page ° Text by jack yeazel and sam penrod
(17 August 2006, Look up an address) (18 August 2006, Update Waypoints Deletion)
(21 Dec. 2006 add 'Missing DVD')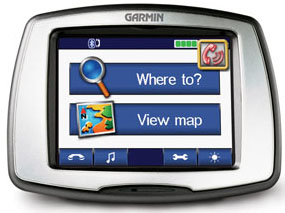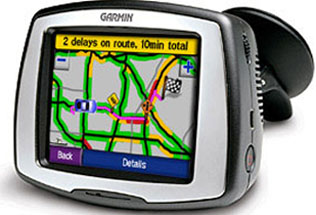 Handset Icons Indicates a Cellphone is Locked On and Calling The c580 Traffic Alerts are in Orange and Red

GENERAL:
These portable (only 9.2 oz as compared to the GPSmap 76C at 8.3 oz) StreetPilot c550 and c580 are about $420 and $500 respectively, check for latest discount prices (HERE).

They comes ready-to-go right out of the box with preloaded Navteq City Navigator 8 for all of North America maps and many options. The unit has an internal rechargeable battery and provides the same, easy-to-use, navigation as the c300 series with enhancements like Bluetooth wireless technology hands-free cellphone calling, an integrated traffic receiver, and an MP3 player. The unit was tested with Software Ver. 4.10. It has only an ON/OFF button and a thumb wheel volume control on the right side. The internal battery powered the unit for approximately eight hours with the backlight at 50%.

The units have the new SIRF-III high-sensitivity GPS receiver -providing faster acquisition times and maintaining signal under heavy foliage and near city skyscrapers. The screen is a very sharp, 3 1/2" diagonal, sunlight-readable TFT. The screen is brighter than the c300 series, with one of the highest-resolution (320x240) color screens we have reviewed. See comparisons to other units (HERE). Configurable vehicle icons allow you to select a customized car-shaped icon showing your position on the map. The Mass Storage has 1.94 GB of internal memory with about 667 MB left for other data and maps. It's interesting that the unit is "Ready to Navigate" the instant it is turned on, as if the receiver is running in the background when the unit is turned off.

The c550 appears to be designed for an audience that mainly wants Garmin to "Take you There" without having to do much computer work and not necessarily the "GPS Enthusiast". (See Joe's FAQs). However, for its intended purpose, it works very well. A system based on the c550 is being installed in Avis and Budget rental cars.

The internal battery will power the receiver even though the unit is unplugged from the 12vdc. Measurements of the battery drain from a car battery are shown (HERE).




There is no CD or DVD of the mapping data included as it is already preloaded on the StreetPilot c580 itself. There is also a windshield suction cup mount which is the ball and socket style

FEATURES:

The signal meter in the upper left hand corner shows satellite reception strength, green means a satellite lock and red indicates it is still acquiring. There is no satellite page on the c580 like in other Garmin units and no way to see a lat/long of your location


. If you are receiving data from MSN Direct, it will show you the current outside temperature, using data from the nearest weather station (in most cases an airport) to your location. The local time is also available on the top of the screen.

The "Where to" is where you select where to navigate to, the "View map" brings up the map page in 3-D and the icons on the bottom row handle the bluetooth cell phone, MSN Direct data, MP3 player, settings and screen brightness, which requires manual control. All are discussed below.

"Where to?" Find Menu

The StreetPilot c580's find menu gives you numerous categories to choose from. Most of them are from the included six million POI database for businesses. But there are some important custom find options. They are Address and Favorites. Pressing 'address' will allow you to input a street address and be routed to it. You will be prompted for the state, then the city and then the house number. You then input the street name, however do not add North or South to the street name. You will be prompted for the direction. The other important option is 'Favorites.' Here you can be routed to your own saved favorites, which are basically waypoints and you can input up to 500 Favorites. In the 'Extras' you can navigate to your own Custom Points of Interest (POI's) which you can create yourself or download from websites. Read our article here on the Garmin POI Loader for more information on Custom POI's which can be in the tens of thousands. The options for "Where To" are found below...
There are sub categories in most of the options. You can also try spelling a name of a POI in the 'Spell Name' category, although searching can take a couple of minutes. You can also use the "Browse Map" feature, which I really found helpful. You can drag the screen and zoom in and out to find locations. And by pressing "Near..." you are given the option of "Search Near..." 1- Where I am Now, 2- A Different City, 3- My Current Route, 4- My Destination. This helps if you are trying to get a reservation for a hotel of your destination or something to eat along the way.

will bring up the map. The default is the 3-D 'bird's eye view." It is set for auto zoom, but you can use the + and - symbols to zoom in/out to the perspective you want. You cannot browse the map or drag it around this mode. Once you have selected a route and then used another feature such as the MP3 player, you must get back to the main menu and press "View Map" to bring the map screen back up. When you are navigating, if you press the "turn in" field in the lower right hand corner, it will bring up the pop up list of future turns, allowing you to scroll through your route. Pressing the green navigation bar at the top of the map screen will bring up a list of the next four turns. You can also press 'map' and see the entire route and your current location on it. When you are not navigating, you can press the speed/arrival key to bring up the trip computer. All of the other streets will be dimmed and your route will be highlighted as a purple line.


When you are navigating, a stop and detour field will show up on the screen on the bottom of the main menu. If you want to stop navigating, press stop. If you are stuck in traffic or hear of an incident ahead you want to avoid, press the detour key and the StreetPilot c580 will automatically re-calcuate a new route for you, taking you off your current route at the next available option.



Settings

The StreetPilot c580 has basic and easy to use settings. These are accessible from the main menu by pressing the wrench icon. There are eight options and when you press the second page of settings, it shows three of the same icons again. Options include:

The map options include choosing the map detail, ranging from 'most' to 'least.' You can also select a 3-D bird's eye view or the more traditional 2-D flat look. The map options is also where you can select the vehicle icon that you want, from the traditional triangle to the new car, monster truck, etc. See more on custom vehicle icons below. The map area is also where you can select from other Garmin map products by pressing 'map info' although it is not recommended to use other map products such as TOPO. However you can add the maps and use the StreetPilot c580 as more of a map viewer, rather than using other mapping products for navigation.

System
The system allows you to select WAAS on or off as well as the 'safe mode.' When the StreetPilot c580 detects you are driving, it prohibits you from making adjustments to the StreetPilot c580 as a precaution to keep you from being distracted while driving. You can also set the 'safe mode' to off. Switching 'Garmin Lock' on or off is done here as well. Garmin Lock is discussed later on. Pressing "About" will allow you to see which software version your StreetPilot c580 is running on.

Locale


The "Locale" screen allows you to select from several languages for both the screen and the voice directions. It is also where you set the time zone you are in and if you prefer routes to be calculated in miles or kilometers. The default voice naviation is "American English Jill." There is also a male voice known as Jack. Overall there are numerous languages to choose from. The StreetPilot c580 will give you text to speech directions, meaning it will speak whatever is on the screen. This includes built in Points of Interest as well as your own favorites (waypoints) you can save. And in our experience, the unit does a great job of speaking even your own custom named favorites.

Display
The Color Mode allows you to switch between daytime and nighttime screens, you can set one as the default or select automatic, which will change the screen at sunrise and sunset to the appropriate time of day. You can also save a screen shot here, this is discussed later on. You can also change the splashscreen in the display options.

Navigation
You can select from Route Preference, either Faster Time or Shorter Distance. There is no Off Road option. You can also select the type of vehicle, including Car/Motorcycle, Truck (delivery), Bus, Emergency or Taxi. You can also select which 'avoidances' you want to avoid, including traffic U-turns, Highways, Unpaved Roads, Toll Roads, Car Pool lanes and even Ferries. The attention tone feature allows you to either turn on or off a tone that sounds before each time the StreetPilot c580 gives you vocal directions.

Bluetooth
See below

Volume
This gives you two separate internal volume controls, for the GPS navigation directions and the MP3 player. The external control on the right hand side of the unit, is the master volume control.

Proximity Points
The StreetPilot c580 supports Custom POI's. In this area of the options, you can enable whether you can an audio alert for POI's that are speed cameras or for all of your custom POI's.



Bluetooth The StreetPilot c580 has bluetooth capability. We found it to work very well with bluetooth capable cell phones. You must first "link" your phone to the StreetPilot c580.
Once the StreetPilot c580 'learns' your phone, the two will automatically connect. A red phone icon will appear on the screen when you are navigating and have an active call.

When you place a call, the StreetPilot c580 continues to navigate for you, but the MP3 player is disabled during the call. Pressing the red phone icon will allow you to bring up the in-call options.


This screen will show up during your call. It will show a call timer and to end or hang up the call, simply press. "End Call."


Pressing "Call Options" brings us this screen. It allows you to use touch tones, handy if you are checking messages and need to enter a passcode or have to press a particular number for an extension. The "Transfer Audio to Phone" option allows you to switch the audio (both the microphone and speaker) back to the phone. This is handy if you want to switch your conversation back to the phone. The "Mute Microphone" option allows you to turn off the microphone in the StreetPilot c580. Helpful if you want to listen to a conference call where you don't need to be talking.




This screen shows your phone's signal strength as well as the battery level.

Some phones support "voice dialing" where you can speak in a name from your cell phone's phone book or speak a number and your phone will automatically do the dialing through voice directions. You can dial directly from the included Point of Interest (POI) database which lists addresses and phone numbers. This applies to restaurants, hotels, businesses, etc. You just press the icon and the StreetPilot c580 will automatically dial the call for you.

It worked well to dial from the screen and it is handy to be able to actually access your phone's saved phone book through the StreetPilot c580 to make calls. I would typically transfer the call back to my phone, after it started to ring on the other end. I also like receiving calls through the StreetPilot c580. The number of the person calling shows up on the screen and you can select "Ignore" or "Answer" If the person calling is in your cell phone's phone book, it will actually list the name of the caller on the screen instead of the phone number.

MSN Direct The DC power cable includes an integrated data receiver for MSN Direct.

You must be in a market coverage area to receive the data signals, which are transmitted through the subcarrier of certain FM broadcast stations. A one year free subscription is included when you buy your c580 and activate the service. You can renew after that for $50 dollars a year. Follow this link for more information on MSN Direct and click here to see the coverage areas. Most US metro areas are included. You will first have to activate the service and after that you will receive data as long as your 12 V cigarette lighter adapter is plugged in and getting power from the car battery, even if your StreetPilot c580 is off. This is helpful so you have the latest traffic and weather conditions when you get in your car, instead of waiting for the next data broadcast.

Traffic Capability
The StreetPilot c580 has the ability to get real time traffic thanks to the MSN Direct service.
The color on the left side signifies the significance of the incident. Green is no delays, yellow is caution and red means a severe problem. I found the traffic coverage was pretty good to alert me to major incidents, accidents and other hazards on the road. You will also get an alert if a problem develops along the active route you are taking to a destination. The traffic receiver will add a yellow line if there is a slowdown ahead and provide a red line if it is a major incident.
As with most traffic services I have tried, the actual traffic data including accidents, construction or other road hazards, seemed to be updated slower than 'real time.' Usually the problem appears in time to warn you, but you may still be getting an incident warning, when the situation has been cleared for sometime. This seems to be more of a issue from the data provider than the unit itself.

Weather
MSN will also send you the latest temperature, wind, humidity, and barometer reading for the nearest weather station to your location, in most locations an airport. You can also get a three day forecast for your location as well. You can also look at the weather conditions and the high and low in other city's within your region of the country.


Gas Prices
For better or worse, you can also get the latest gas prices and be shocked in your car, instead of when you roll up to the pumps. It will highlight in red the higher prices in your area and in green the better prices (if there is such a thing) and also show you how current the data is, whether from today, yesterday, etc. You can then select a particular gas station and be routed to the location.

Movies
The days of looking in the newspaper to find the movie times may soon be over with new technology, including getting them from your GPS navigator. The MSN Direct service will send out the latest movies, theaters and times. You can even ask to be routed to the theater of where the movie is you want to see. I did notice the data is sent out less frequently on the movies, but if you have the receiver connected for a couple of hours, it should be updated and available.


Navigation & Routing

The StreetPilot c580 does a very good job in our opinion in calculating routes and getting you to your destination with voice directions including speech to text when the StreetPilot c580 will actually speak the street names. In our testing, the StreetPilot c580 always seemed to calculate the best possible routes and creates idential routes as other Garmin units such as the nuvis and the StreetPilot 2820. Of course with all auto navigators, they may not lead you on the same route you would take if you know all the local roads and have favorite streets to drive on, but in all cases the StreetPilot c580 will get you to your destination. The processor in the StreetPilot c580 is fast and typically will calculate an average route in less than ten seconds. The StreetPilot c580 will also automatically re-calcuate a route for you if you miss the turn you were suppose to take. It typically would re-calculate the new route, giving you enough time to make the next turn, even if it is only a block a way. Inputting addresses into the StreetPilot c580 worked well. Finding an address and navigating went quickly, and the StreetPilot c580 typically searched less than ten seconds. Overall we can give the StreetPilot c580 a superior rating when it comes to calculating a route and navigating you to the destination. The StreetPilot c580 does NOT support user created routes, for instance a series of stops along the way. However it does allow for one "via point." First you must input your final destination and then select another location in the find menu. You will then be prompted if you want to add it as a via point or make it your new final destination.


List of routing manuvers you can bring up by pressing the green bar on the top of the map page.



MP3 Player The StreetPilot c580 has a built in MP3 player and there is a built in mini headphone jack to either input it into your car stereo or for headphones. Overall we found the MP3 player to work very well. You can play music at the same time you are navigating and it will pause the song and announce the directions, before resuming the music. You can play music through the built in speakers, but the speakers are not designed to play music. However for a book on tape MP3 file, this would work okay.




This is the MP3 player, showing the song playing with rewind, fast forward, stop, pause, repeat and shuffle options. On map page above, the musical note indicates the MP3 player is working and pressing the icon will bring up the MP3 player.



Satellite Acquisition

The StreetPilot c580 does a great job locking in satellites with its built in patch antenna. If you don't get a lock, a message will appear within a couple of minutes, asking if you are indoors. The high sensitive receiver chip gives the StreetPilot c580 great reception, I have never lost a satellite lock with it in the car. There is an MCX external antenna jack on the left side of the unit, however, there probably is little need to use it. Typical satellite lock time is about ten seconds for a warm start, (when the StreetPilot c580 has been on in the last hour) and thirty seconds for a cold start (when the unit has not been used for a longer time.) Again there is no satellite page or lat/long capability.

Data Pages

The StreetPilot c580 has a built in trip computer. You can log your current trip and averages. You cannot change the data fields however. This is handy if you are tracking gas mileage or how long you are really stuck in traffic. This is accessible by pressing the lower left hand field on the map page. (Shows speed when not navigating, shows arrival time (ETA) when navigating) Custom POI

The StreetPilot c580 allows you to load in Custom points of interest, speed and redlight cameras and school zone warnings. I have loaded in more than 20- thousand Custom POI's. Again here is a link to our gpsinformation.net article on the POI Loader. The c580 is NOT compatible with Garmin's new TourGuide feature, which uses audio files to announce locations with specific Custom POI's.

Garmin Lock This is a new feature in the newest Garmin units. It acts as a theft deterrent, to prevent your StreetPilot c580 from being used if it is stolen. If you enable Garmin Lock in the System area of the setting menu, you will have to input a four digit code each time you turn on the StreetPilot c580. If you forget the four digit code, you can set up a safe area, such as your home, and when you are within a small radius, you can unlock the unit without the code and then set a new code. Although you might be able to sleep better knowing that if someone steals your StreetPilot c580, they won't be able to enjoy using it, the chances aren't very good they are going to bring it back to you either, if they can't unlock it.

Hardware Features

Battery
The StreetPilot c580 has a built in lithium battery, with an average battery life of eight hours. It typically requires two to three hours for a complete charge. There is a battery level indicator in the upper right hand corner. When the unit is off, a message will show you if the battery is being charged or if the charging is complete. The battery will also charge when using it in the car with the supplied DC power cable. Again you can run the StreetPilot on the internal battery, but the data service will not work unless connected to the 12V battery supply. Windshield Mount
The windshield mount is small, lightweight and from our use, very stable. Unlike the c3x0 series, the mount is a ball and socket and does NOT have the easy release to remove the unit out of sight to prevent theft and also does not power the unit. With the c580, the power cable and intergrated data receiver plugs into the back of the unit. That is one drawback in my opinion with this newer design of the mount, however there is much more versatility is adjusting the screen to exactly where you want it. But it is not easy to remove it and quickly insert it back into the mount.

USB Connection
To transfer data to the StreetPilot c580, connect it to the USB port on the right side of the unit. Unlike other Garmin units, the StreetPilot c580 acts as a "Mass Storage Device" and this means that the first time you connect it to your computer, it will have to recognize the StreetPilot c580 and install it. I had to restart the computer and after that it would connect just fine. The StreetPilot c580 is compatible with MapSource if you already have it, however it acts differently than other Garmin units. You can create waypoints and then send them to the StreetPilot c580. They will show up as the "Favorites" in the find menu. The StreetPilot c580 does not charge when connected to the computer. Be careful messing around with files in the internal memory, especially in the Garmin folder. Deleting or renaming one could create serious problems.

SD Card Slot
The unit has a slot for an SD card slot if you want to add supplemental Garmin Mapping products such as TOPO, however the unit will NOT autoroute (give you turn by turn voice directions) with TOPO. You can also use the SD card for additional MP3 audio files. There is about 600 MB of empty space on the c580's internal memory that is available for MP3 files or other mapping.



Screenshots
Unlike other Garmin units, the StreetPilot c580 is not compatible with xImage, which allows you to grab screen images and import custom waypoints. However the StreetPilot c580 does allow you to save screenshots into the internal memory, which you can download to a computer. You do this by setting screenshot as 'on' in the Display menu of the settings. Then to save a screenshot, you simply press the camera icon on the screen. The bitmap image is then saved in the internal memory in the screenshot file folder. You can then download them onto a computer. You can also customize the splash screen as well.

Software Updates

We suggest you make sure you have the latest unit software, available for free from garmin.com. We suggest you use Garmin's WebUpdater or follow this link to do it manually. When you do the software updates, they are uploaded to the StreetPilot c580, differently from other Garmin units. First of all the unit will download them and then you have to disconnect the StreetPilot c580 from the computer, using the "Stop Devices" option in Windows. Then after that, the unit will on its own update the operating software. The GPS receiver software is different from the operating software. But if you use the WebUpdater, it will take care of all of the necessary software upgrades.

Custom Vehicle Icons

With the StreetPilot c580 there is the option of customizing a vehicle icon. Instead of the traditional triangle, visible in these images below, you can select from a sports car, monster truck, motorcycle or mini car. You can select your vehicle Icon in the 'Display" section of the settings. You can download the vehicle icons and learn more by

following this link. You can also download them by using Garmin's WebUpdater for software updates. The screen shots below are examples from possible selections, including a variety of vehicles and colors.


Questions:

Can I use the StreetPilot c580 for hiking or geocaching?
No, the StreetPilot c580 is not meant for rugged adventures as it is not as durable as other handheld devices designed for hiking. Auto navigation only.

Can you listen to the MP3 player without headphones?


Yes, the MP3 player will sound through the StreetPilot c580's speakers when there is no headphone plug in the StreetPilot c580's jack, however the music will not sound very good.

Can I get a latitude / longitude reading and altitude information.


No, unfortunately Garmin has cut this feature out of StreetPilot c3xx and c5xx series.

Is the StreetPilot c580 waterproof?
The StreetPilot c580 is NOT waterproof, because of its open speaker and other connections and it is not designed for marine use.

Is there NMEA in/out data capability?
No.



Areas for Improvement

In our opinion, the StreetPilot c580 does not have any issues, since it has been refined during the evolution from the c320 to now the c580. The routing and navigation worked without error. I would personally like to see a tracklog capability as in other Garmin handheld receivers and many Street Pilot models, to log where you have been and of course a satellite page with lat/long capability. But this seems to be left out in an effort to keep the unit simplified and segmented from other units.

Summary

The StreetPilot c580 comes from a good product line of the small Garmin StreetPilots, but with the latest bells and whistles. In our testing of more than 1700 miles, I have not encountered any issues. The data from MSN Direct is a nice feature especially when you are traveling in unfamiliar locations and during long trips. The StreetPilot c550 is very similar to the StreetPilot c580, except there is no MSN data capabilty with the c550. Read Jack's review of the StreetPilot c550 here



Click on Thumbnails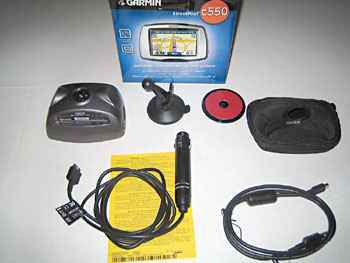 .....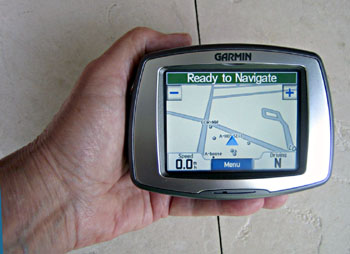 Out-of-the-box parts: GPS back showing the snap-in ball socket and speakers, suction and permanent mounts, travel case
Power/FM radio plug, unlock code, and USB cable ° Hand-size unit
GPS Navigator:
The c550 comes with preloaded maps of Europe or North America and includes automatic routing, 2D or 3D map perspective, and turn-by-turn voice directions that speak street names, making "heads-up" navigation easy.
NOTE: If you change the voice in the "Locale" section, you need to select a voice labeled "TTS" (Text To Speech) if you wish to use this feature.
Look up an address: (1250 Northwest Highway, Garland, TX 75041, submitted by a reader)
Press: "Where to?", "Address", "Spell State" (TX), "Spell City" (GARL) -at this point the unit figures out that it's Garland TX, "Enter House Number" (1250), "Enter Street" (NORTHWEST), the address comes up with the proper zip code, now press "Go!" (or "Show Map").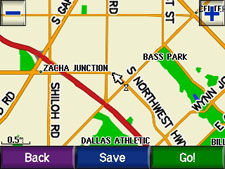 Screen Shot of the Address
Panning a Map:
In order to pan a street map, one must select: Where to?, select the down arrow, and then Browse Map. From this map, one can select a GoTo or create a waypoint at other than Present Position. (The moving navigation maps can't be panned).
Waypoints (Favorites):
If you have MapSource, upgrade it to at least v. 6.11.5. Then MapSource can recognize the c550, and any waypoints loaded into a MapSource map can be uploaded to the unit directly without having to go through the .gpx routine. These Favorites will be ADDED to any favorites in the unit.
NOTES: Waypoints can't be deleted 'en mass' or by symbol as with all the Garmin hand-held units we have reviewed. They must be deleted one at a time with the Favorites Edit function. The c550 does not come with any MapSource capability. One would have to purchase a MapSource map or Trip & Waypoint Manager in order to create, upload, or view waypoints in the unit on a PC map.
Missing DVD:
While the MapSource DVD is not included in the package, the American buyer (only) is entitled to the disk, and if they send an email to Garmin via their support web page: http://www.garmin.com/contactUs/techSupport.jsp
including their unit serial number etc., Garmin will send you the DVD for free. Then, using the unlock code included in the original package (on a yellow sheet), the user can install MapSource onto their PC. With this DVD one can unlock the map in a second GPS, if it supports NT maps. (Thanks to Paul Haring for this tip!)
Auto Routing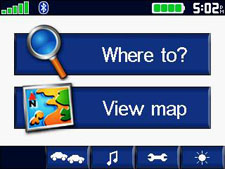 ...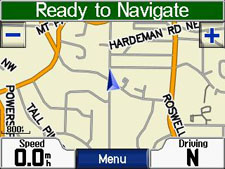 ...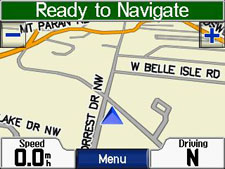 Splash Page "Cars" Icon Shows that Traffic Information is Being Received ° 2-D Map ° 3-D Map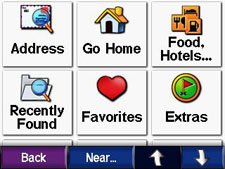 ...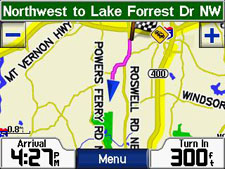 ...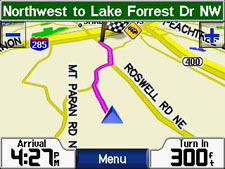 From the "WhereTo", Select a Destination
2-D Route ° 3-D Route (Streets Change to Yellow)
Some Example Screen Shots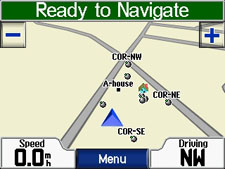 ...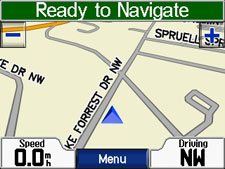 ...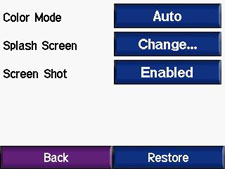 A close zoom level is required to display your Favorites.
Screen Shots can be Stored in the "Mass Media" (by clicking on a camera icon).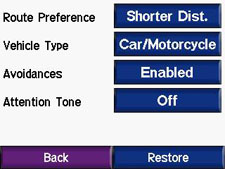 ...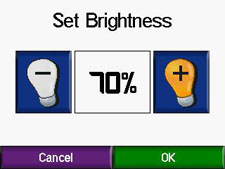 ...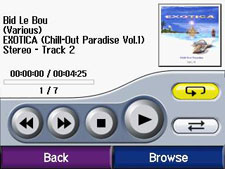 Select Routing Options ° Setting the Brightness is done Manually ° MP3 Player Control
FEATURES:
In addition to the touch-screen display found in previous versions, the StreetPilot c550 along with its counterparts, the StreetPilot c530 and the StreetPilot c510, come equipped with new c500 series features.
"Garmin Lock" is an anti-theft feature that disables the unit from performing any functions until you type in a specific 4-digit PIN or take the unit to a predetermined location. It is also an MP3 player and accepts customized points of interest (POIs) such as school zones and safety cameras.
Bluetooth Wireless:
Features exclusive to the StreetPilot c550 include Bluetooth technology integrated with a microphone and dual speakers that lets you to make hands-free mobile phone calls on a compatible Bluetooth wireless phone. One can view incoming calls on the c550, by tapping on the screen to answer.
Speak into the built-in microphone while staying focused on your driving! In addition, one can retrieve and dial numbers from their personalized phone book or the phone's call history log. You can also make calls from the StreetPilot c550's points of interest database -which includes hotels, restaurants, stores, and more. In tests with several cell phones, synching with the c550 was remarkably easy, and the audio quality was good.
Integrated Traffic Receiver*:
A unique feature to the c550 is its integrated traffic capabilities. The unit includes a GTM-20 FM TMC traffic receiver installed in the 12vdc power plug (with lights for Power-on and Traffic reception) which notifies you of traffic, construction, weather delays, and automatically suggests alternative routes. The traffic receiver comes with a free 3-month trial subscription (US). To extend the initial service, visit (HERE). Subscription cost is $60 per year. One can pan the Traffic maps (only) by touching and sliding on the screen.
*Traffic services are available in select cities noted (HERE).
Traffic Screens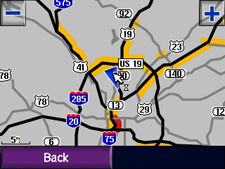 ...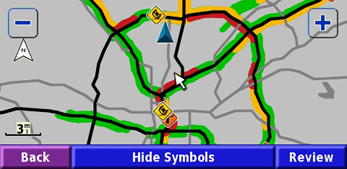 StreetPilot c550 FM Traffic ° StreetPilot 7200 XM Radio Traffic
(Not all Traffic Information is Created Equal. Apparently Slow and Heavy traffic are combined into Orange)
However, one can determine the severity of the traffic congestion from other screen pages.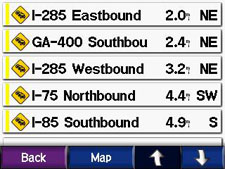 ...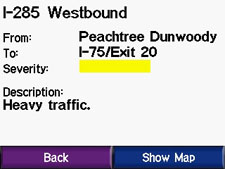 ...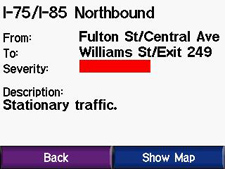 Index of traffic events starting with the closest ° Details of the Index
Optional Software (Extras):
Optional software available on plug-in SD cards lets you add new features to your c550 without connecting to your computer. Travel Guide gives you helpful and thorough reviews and recommendations for restaurants, hotels, shopping, nightlife, sporting events and tourist attractions. Travel Guide for Europe available for purchase. Travel Guide for United States is coming soon. Savers Guide is a geo-coded coupon book that notifies you of nearby discounts on restaurants, hotels, shopping, and more at thousands of participating Entertainment businesses throughout North America.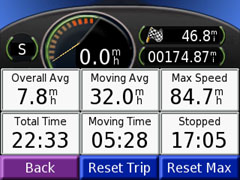 Trip Computer
Joe's FAQs:
1) Does it have a trip computer? -Yes, by tapping the lower-left box on the Map Page, you get the above screen.
2) How many waypoints can a user put in? -Unknown but we have uploaded 500 with a .gpx file.
3) Can a user create a waypoint? -Yes by touching the map, but only at Present Position. (However, see Panning above).
4) Is there a MARK key or similar? -No.
5) Can the unit do the "traveling salesman problem" solution? -No, but the route can contain one Via.
6) Does it have a GPS info screen? -No.
7) Can it display altitude? -No.
8) Are tracks displayed? -No.
9) Are POIs displayed? -Not on the navigation map; however, they can be seen on a Favorites, Show Map, map.
10) Are street names pronounced? -Yes.
11) Does it have proximity waypoints to go with the POI loader? How does this work for things like speed trap locations?
-The c550 supports uploading Custom POIs with the POI loader in the normal fashion. All of the attributes of the POI
appear to be supported, including proximity distance, speed, and icons for the POIs loaded.
12) Will it play any music formats other than MP3? MP4? other? -The MP3 format for audio is supported.
13) Do you have to press screen buttons on the screen to get to the maps or does it eventually time out to the maps?
-You have to touch the screen at least once.
14) Is there a computer connection? -Yes, USB to upload additional maps, MP3, Custom POIs, Waypoints, and Extras.
15) How do you update the maps when the time comes? -It appears that you can replace the existing map in Mass Storage.
16) Does it have a Security Code? -Yes.
17) Can you delete all the waypoints at once? -No. Waypoints must be deleted one-at-a-time.
18) Can you change the waypoint symbol? -Yes.
19) Does it have a battery? -Yes, internal and rechargeable through the cigarette lighter plug or USB connection.*
*Procedure for charging the Battery from a USB Connection: Turn the unit off. Plug in the USB. (That turns the unit on). Turn the unit off before the maps load and before you get the 'computer picture'. Otherwise, you can't turn the unit off.
Things We Would Like to See Improved:
Display the Favorites waypoints with zooms farther out. (One must zoom in very close to see them.)
Provide for deleting all waypoints "at once" or by Symbol or Category.
Include an installed MapSource map DVD.
Provide for panning the 2-D and 3-D moving navigating maps.
Display a tracklog.
Now don't get lost out there -you all!
-jack yeazel